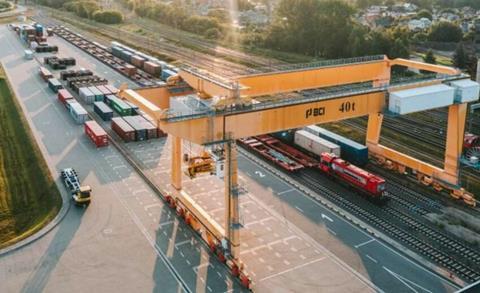 EUROPE: Industry associations have welcomed the European Commission's Greening Freight proposals to improve cross-border rail freight services and standardise information on transport emissions, but have expressed concern about permitting the use of larger and heavier lorries.
Noting that railways are expensive to build and increasingly congested, on July 11 the European Commission put forward proposals for a capacity management regulation.
The objectives are to enable more effective capacity management; strengthen incentives to improve the performance of rail infrastructure and operations; introduce more effective mechanisms for co-ordination between stakeholders, in particular across borders; and to support the deployment of digital tools enabling better capacity and traffic management.
The commission said this would provide stable timetables and the option of earlier ticket-booking for passengers, with flexibility adapted to just-in-time supply chains for freight shippers. It would create capacity for additional services, improve performance and reduce costs.
Operators would be able to request and receive infrastructure capacity at any time, instead of having to file requests within rigid timelines. Interoperable IT tools would also allow operators to place and receive replies to their capacity requests in a single place.
The Regulation would discourage reserving capacity 'just in case' and cancelling it later, as well as poor management of capacity by infrastructure managers, for example closing rail lines for works on the infrastructure at short notice.
The corridor concept for capacity management will be abolished as evaluation has found unsatisfactory results arising from incomplete implementation and design flaws.
The commission said the existing framework does not serve all market segments equally well, with freight and cross-border transport struggling to get capacity to meet customer needs.
Current capacity management rules are decided 'annually, nationally and manually', which is a problem for cross-border services, leads to delays and hinders the functioning of the single market. A lack of co-ordination of maintenance works also causes delays.
While the rail sector has launched several initiatives including a timetable redesign project to revise the process for capacity management, implementation is only possible through changes to EU legislation.
The proposals will now be considered by the European Parliament and the Council in the ordinary legislative procedure.
The European Rail Freight Association called for an ambitious and urgent approach. It said more than 50% of rail freight volumes cross at least one border, but the infrastructure is a 'patchwork' of nationally focused systems and 'a national-centric approach will undermine growth'.
The Community of European Railway & Infrastructure Companies welcomed the Capacity Regulation as a 'timely piece of legislation long-advocated by the railway sector', to tackle the current 'overly rigid' legal framework. It called for the proposal to be fast-tracked, saying the first concrete results could be delivered by 2025.
Larger lorries
The commission has also proposed revising the Weights & Dimensions Directive to allow zero-emission lorries to be heavier than their fossil fuel counterparts.
This would encourage the use of zero-emission technology which is currently heavier, and as it gets lighter in the future would allow payloads to be increased.
Lorries carrying freight which is moved using two or more transport modes would also be allowed to be higher and heavier.
The European Transport Workers' Federation of trade unions expressed concerns about the effects on rail of larger lorries.
CER also said it has 'grave concerns' that the changes could have the unintended effect of reversing modal shift. The European Rail Freight Association, representing mainly private operators, expressed similar views, and both industry associations said the changes should be considered along with proposals for revision of the Combined Transport Directive which are to be released later in July.
Emissions
A CountEmmissionsEU common approach to calculating transport greenhouse gas emissions is also proposed.
ERFA said this is a positive development which should include externalities such as noise, safety and land use, rather than solely exhaust pipe emissions.
CER said CountEmmissionsEU is needed to avoid greenwashing, and should serve as the basis for a fully-fledged carbon labelling scheme for transport.