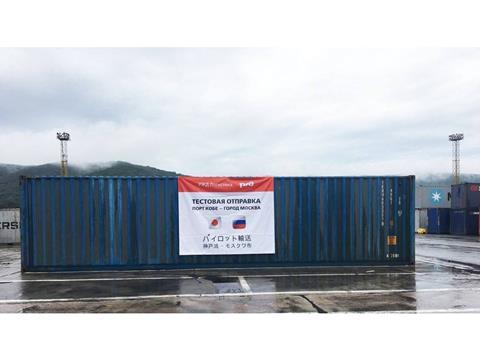 INTERNATIONAL: A 40 ft container equipped with temperature, moisture and vibration sensors has been transported by sea and rail from Kobe to Moscow in 14 days as part of a trial of enhanced freight services which is being undertaken by Russian Railways and Japan's Ministry of Transport,
'The use of temperature, moisture and vibration level sensors is an important innovation, taking into consideration the fact that Japanese companies deliver mostly high value-added goods', said RZD Logistics CEO Viacheslav Valentik.
On August 17 the container left the Port of Kobe for Vostochny in Russia's Far East. It was then transported westwards along the Trans-Siberian railway as part of a TransContainer service running to a fast schedule under the 'Trans-Siberian in seven days' project. Customs procedures were carried out at the Vorsino freight terminal near Moscow, where the container was transferred to road for the final leg to the customer's warehouse at Khimki.
A second trial shipment began on August 29, with a 20 ft container being sent from Yokohama via Vladivostok to Silikatnaya near Moscow.