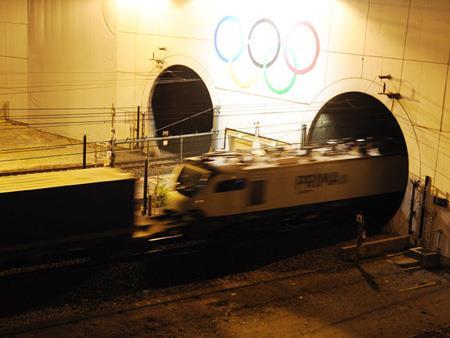 EUROPE: An Alstom Prima II electric locomotive was tested in the Channel Tunnel on the night of September 29-30, with a view to enabling standard locomotives to be used on freight trains through the Tunnel.
Freight trains are currently hauled by Class 92 locomotives built specifically for use through the Tunnel, however these are not approved for use on the RFF network. Eurotunnel is seeking to encourage open access, and in July obtained agreement from the Intergovernmental Commission safety authority that Technical Specifications for Interoperability should be applied to freight trains, rather than the Channel Tunnel-specific rules which predate TSIs.
The TSI-compliant Prima II locomotive was used in its standard configuration for the tests, and hauled a 950 tonne train. It entered the Tunnel via the French portal at 22.20, and a series of traction, brake and pantograph tests were undertaken before it emerged at the UK portal at around 03.00. A second series of tests were carried out on the return journey, ending at 06:00.
'Gaining authorisation for new rolling stock is an essential part in the development of the open access approach implemented by Eurotunnel', said Jacques Gounon, Chairman & CEO of Groupe Eurotunnel.