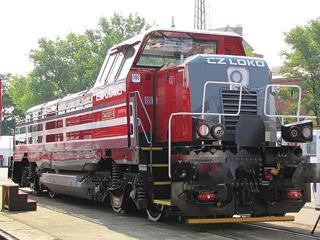 CZECH REPUBLIC: CZ Loko has rolled out a prototype diesel-electric locomotive for shunting and light mainline duties.
The Class 744 Bo-Bo loco has asynchronous traction motors and a 1 MW Caterpillar 3508C engine meeting the EU Stage IIIA emissions standards. Maximum speed is 100 km/h.
The 72 tonne locomotive has Siemens alternators and dynamic braking; it can be fitted with remote control equipment or automatic couplers.
A 1·55 MW version with a CAT 3512 engine is under development for the 1520 mm gauge market.