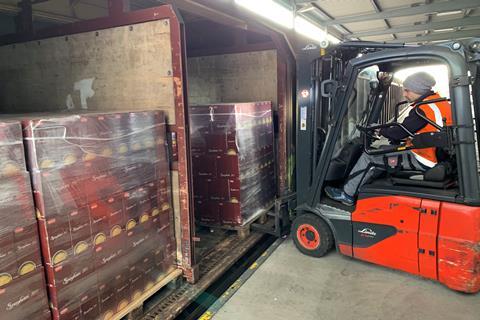 EUROPE: DB Schenker has organised the transport of several hundred tonnes of pasta by rail from Italy to Germany, enabling 650 Aldi supermarkets to replenish supplies which had been depleted by customers stocking up during the coronavirus pandemic.
The first delivery included 10 wagons of spaghetti, penne and fusilli. The pallets were collected from producer Cucina at Nola near Napoli and taken by road to Anagni, then transported by rail to DB Schenker's Transa terminal in Nürnberg.
Aldi Süd's Director of Supply Chain Management Andreas Kremer said co-operation with DB Schenker had provided the manufacturer with the certainty that its products could be delivered, the retailer with the ability to respond flexibly to supply bottlenecks, and consumers with the knowledge that supermarkets are being restocked and there is no need to stockpile pasta.
'We maintain the flow of goods in Europe and worldwide', said Christian Drenthen, Director of Land Transport at DB Schenker, on April 2. 'We manage this around the clock and at all times. But the current pandemic shows the importance of stable supply chains. With our short-term pasta transport for Aldi from Italy to southern Germany, we ensure that empty supermarket shelves are quickly filled.'