The SmartCheck biometric check-in and UK border exit system has gone live at Eurostar's London St Pancras station; Railway Gazette International tries it out and speaks to the high speed train operator and supplier iProov.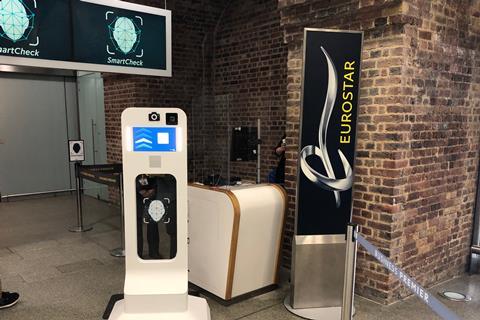 EUROPE: Eurostar passengers can now use SmartCheck biometric verification to check-in and pass UK border exit checks when travelling from London St Pancras International station.
SmartCheck was officially opened for use by business premier travellers and members of Eurostar's Carte Blanche loyalty programme on July 18.
Using SmartCheck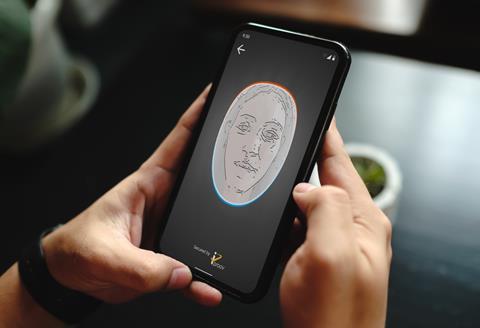 A passenger must first install the iProov mobile app, and then use it to take and upload a passport-style 'selfie' photograph, as well as scanning the chip in their passport before setting off from home. On arrival at St Pancras International station they can then use the app to scan a barcode on their ticket to check-in, rather than using a ticket gate.
A SmartCheck kiosk at the entrance to the Eurostar terminal scans the passenger's face as they approach, and displays a green symbol once they have been verified as being the passport holder. The passenger does not need to stop walking or pose for the scanning to take place.
SmartCheck currently handles the Eurostar check-in and UK exit checks, but the co-located French checks for entry into the Schengen zone are still done using either a manual passport inspection or e-gate. However, the partners anticipate that it should be possible to link up the systems in the future, incorporating with any future border documentation as required.
Talks are underway for potential deployment of the technology on UK-bound services; widening the application for use by all categories of passenger is also a possibility.
Eurostar General Secretary Gareth Williams told Railway Gazette International that joining up all the border procedures would be the 'golden prize', as it would make the passenger experience faster and more convenient for travellers. Post-Brexit border checks can often make it feel like Eurostar is 'policing' passengers, he said, when its staff would rather be focusing on the journey experience which is 'what they do best'.
Technology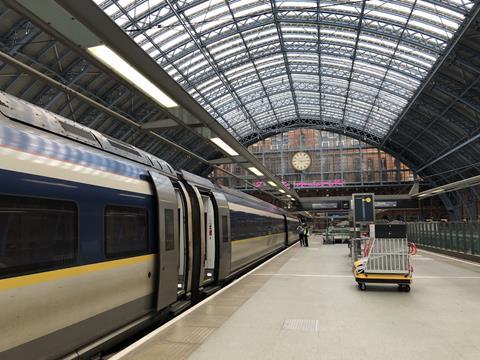 SmartCheck incorporates iProov's biometric suite and checkpoint, along with identity verification-as-a-service from partner company Entrust.
iProov has drawn on its extensive experience providing identity verification for banks and government entities in various countries including the UK, Australia, USA and Singapore, and stresses that the system is based on 'verification rather than recognition'.
iProov founder & CEO Andrew Bud said the first deployment of the technology in a rail environment 'clearly demonstrates how facial biometric technology can be used to manage border control in a smarter and more efficient way, to benefit both organisations and passengers at scale'. Moving the checks from the station 'to the passenger's living room or office', would save time and space at the border point.
Bud sees opportunities for deployment of similar systems at other land borders, where requirements designed with airports in mind are proving hard to implement.
Bud explained that SmartCheck had benefited from major advances in verification technology in the past three years, and the current capabilities would not have been possible just five years ago.
He told Railway Gazette International that past concerns about the risk of unconscious bias in biometric algorithms have long been solved, and the system will work for anyone with a biometric passport.
One specific challenge posed by the railway environment was the need for a free-standing kiosk which does not impact on the station fabric and which can be wheeled away for safe overnight storage after the last train of the day has departed.
First of a Kind keeps innovation dynamic
iProov had been talking to Eurostar about the concept since 2016, but the SmartCheck project really got underway in 2020 when the Department for Transport/Innovate UK's First of a Kind innovation programme awarded a grant to support its development and deployment. Testing with selected passengers was undertaken between December 2021 and April 2022.
Bud said the FOAK programme was 'extremely well set up' to support innovators. The programme management procedures meant 'all parties are incentivised to keep things moving' and 'keeps the process of innovation dynamic'.
He believed that the key to a successful application for FOAK funding was to be able to explain clearly and simply how a good idea would lead to changes.
Eurostar told Railway Gazette International that SmartCheck would not facilitate the restart of services at Ebbsfleet or Ashford International stations. These remain suspended indefinitely, as many more passengers can be handled by concentrating the available border resources at St Pancras International.