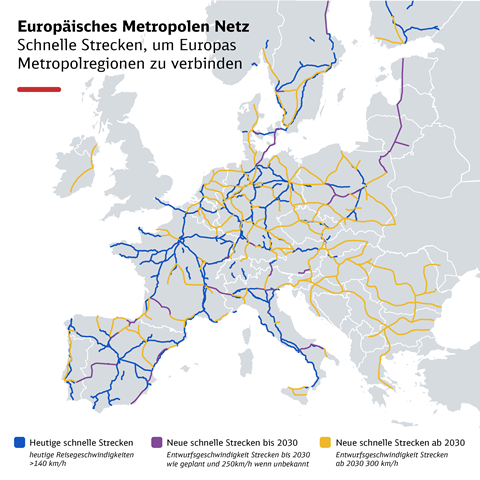 EUROPE: Proposals for a huge expansion of the high rail speed network have been drawn up by Deutsche Bahn working in partnership with nine other major European operators. This would be necessary to achieve the Green Deal targets of doubling high speed rail travel by 2030 and tripling it by 2050 in order to cut transport-related carbon emissions by 90% by 2050, the study suggests.
Metropolitan Network: A strong European railway for an ever closer union points out that insufficient effort has been made so far and calls for the EU and its member states to 'provide substantial additional funds and invest in expanding the HSR network throughout Europe'.
To achieve the targets 'will require unconditional commitment and willingness to adapt by governments, institutions, transport companies, and European citizens along with a sustained search for smart solutions'.
Compared with the current 'patchwork of separated networks', the Metropolitan Network would connect all Europe's large cities and 230 metropolitan regions, defined as urban areas with more than 250 000 inhabitants, to high speed services operating at least once an hour. This network would be directly accessible by 60% of Europe's population. High speed rail's market share for travel over distances between 500 km and 1 000 km would grow from 13% in 2019 to 27% by 2050 were all the proposed lines to be built.
The network would require construction or upgrading of 21 000 km of route, tripling the European high speed network from the total length of 11 336 km as assessed by Eurostat in 2019.
Germany's high speed network alone would need to be extended to 6 000 km, while the Polish high speed network would expand tenfold from the lone 224 km Grodzisk Mazowiecki – Zawiercie route to 2 760 km. Were all the proposed lines to be completed by 2050, high speed rail's share of the transport market would grow to over 14% compared with 6% in 2019, the study suggests.
While accepting that building 21 000 km of rail infrastructure in the next 27 years is 'an ambitious target', the study points out that around 20 000 km of motorway were built in the 27 EU countries between 2000 and 2020. Apart from a substantial contribution towards climate protection, benefits that would accrue from building the proposed high speed routes include further industrial development, 'tying Europe together', supporting international aid and solidarity and strengthening European identity.
The study includes substantial input from PTV Planung Transport Verkehr GmbH which DB commissioned 'to carry out a study simulating the effect on the achievability of the EU's targets for 2030 and 2050'.
The document excludes the HS2 project in Britain, but proposes extensive new line construction in other non-EU and non-Schengen countries from 2030 onwards.
The study appears to partly duplicate proposals for a massive expansion of Europe's high speed network which were published in January by the Europe's Rail Joint Undertaking in co-operation with the Community of European Railways, supply industry association UNIFE and the AllRail association of new entrants to the passenger market.
This suggested that investment totalling €550bn in Europe's high speed network would generate net positive benefits to society worth around €750bn by 2070.
Websites
We are not responsible for the content of external sites