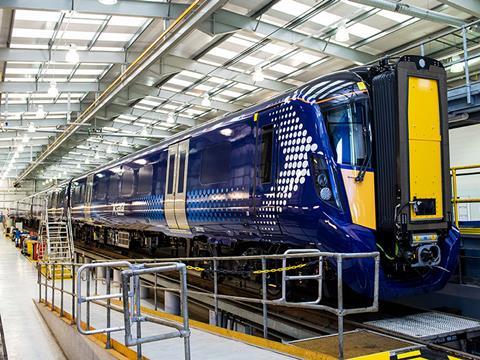 UK: Two Hitachi Rail Europe Class 385 EMUs have been moved from Britain to a base at Minden in Germany for a series of unpowered dynamic tests on the DB Netz network.

Hitachi is supplying 70 Class 385 EMUs in three- and four-car formations for ScotRail from its production facility at Newton Aycliffe in northeast England under a contract signed in 2015 for 46 three-car and 24 four-car EMUs from the manufacturer's AT200 family. Initially the 160 km/h EMUs are to be deployed on Edinburgh – Glasgow services via Falkirk High. Electrification of this route is nearing completion under Network Rail's EGIP enhancement programme.

However, limited access to paths in the UK has led Hitachi to work with DB Systemtechnik to undertake a series of dynamic trials in Germany in September and October to accelerate the approval process for the Class 385 fleet. Two trains have been sent to Germany, while two more are undertaking tests in Scotland.

In Germany, DB locomotives will be used to haul the trains at up to 160 km/h to confirm the dynamic performance and stability of each individual vehicle in accordance with the European EN14363 technical standard. These trials will be undertaken at both tare weight and in conditions simulating crush loading. The test runs are to be undertaken at various locations including Trier, Göppingen, Donauwörth, Chemnitz and Treuchtlingen.

'With testing taking place in Germany, the new trains coming to Scotland are one step closer to delivering faster journeys, more seats and better services', said Chris Knape, New Trains Technical Manager at the ScotRail Alliance. The tests build upon previous approval runs undertaken at the Velim test circuit in the Czech Republic.

A Hitachi Rail Europe spokesman told Railway Gazette International that while the primary reason for undertaking the Class 385 running trails in Germany was a lack of access to the UK network, the company retains its long-standing ambition of supplying vehicles to other European countries. As such it is 'always helpful to have a greater knowledge of the German network and industry there', he added.