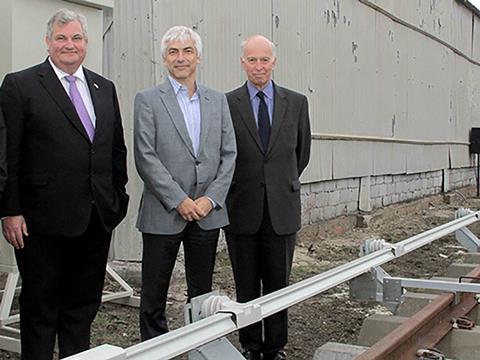 ARGENTINA: Infrastructure manager ADIF has announced that it is to install composite aluminium/stainless steel conductor rail supplied by Brecknell Willis of the UK on sections of the Mitre commuter network in Buenos Aires electrified at 800 V DC.
Brecknell Willis conductor rail is to be installed on a total of 27⋅3 km of double track on the Mitre routes to Tigre and José León Suárez. Deliveries from the UK are scheduled to take place over the next few months.
ADIF says that the new conductor rail is suitable for all types of sleeper and will have a minimum service life of 35 years. The aluminium/steel rail will also offer better conductivity, enabling voltage levels to be maintained between rectifier stations.
Trial installation of Brecknell Willis equipment has been undertaken at Retiro station in Buenos Aires, the terminus of the Mitre network. This was recently visited by a UK delegation headed by Minister for Trade & Investment Lord Price.