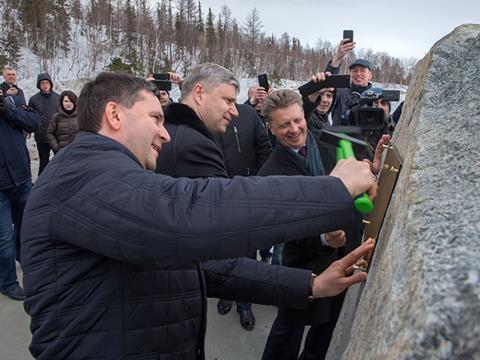 RUSSIA: A foundation stone was laid on May 11 for a bridge over the River Ob which is to be built as part of the 353 km Northern Latitudinal Railway. Attendees included Russian Railways President Oleg Belozerov, Minister of Transport Maxim Sokolov and Governor of the Yamal-Nenets Autonomous District Dmitry Kobylkin.
Documentation for the 113bn rouble Labytnangi – Nadym line has now been completed ready for final government approval, and survey works are underway. Construction is expected to begin in 2019 for completion in 2023.
Belozerov said the line would fulfil three tasks: connecting RZD's Northern and Sverdlovsk divisions, freeing capacity on the Trans-Siberian route and connecting the Yamal Peninsula with the rail network. Traffic is estimated at 23·9 million tonne/year, mainly gas and oil.
The line is to be built under an April 2017 concession agreement involving RZD, Gazprom and the regional government. RZD will also modernise the connecting Konosha – Labytnangi and Pangody – Korotchaevo lines, while Gazprom is responsible for upgrading its 112 km Pangody – Nadym line. The region is to contribute towards the cost of the two major bridges, and will provide land and tax breaks.
'Today we not only give a symbolic start to the construction of a bridge across the Ob, we are opening a new stage in the history of the development of Russian transport infrastructure', said Belozerov. 'The Northern Latitudinal Railway will change the picture of transportation in the whole of the country'.