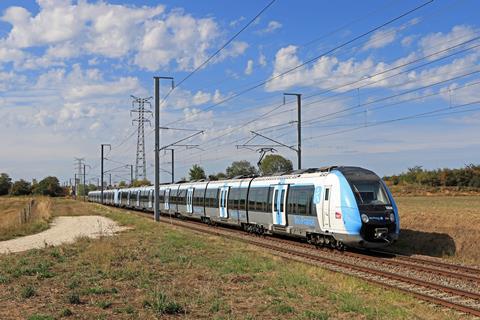 FRANCE: Electrification of the 72 km Gretz – Longueville – Nogent-sur-Seine section of the Paris Est – Troyes main line and the 7 km single-track Longueville – Provins branch has been completed with the launch of electric services on October 3. Speeds and journey times are unchanged, but electrification is expected to improve reliability.
Work to electrify the 79 route-km at 25 kV 50 Hz began in 2018, with major works including the conversion of the Tunnel des Bouchots into a cutting as it impossible to modify to accommodate the overhead.
The €160m cost of electrification was funded by the state (43%), Île-de-France région (23%), Grand Est région (18%), Aube département (7%), Troyes Champagne municipality (6%), with contributions from SNCF Réseau, Seine et Marne département, Troyes municipalities and various local councils around Nogent and Romilly-sur-Seine.
Operations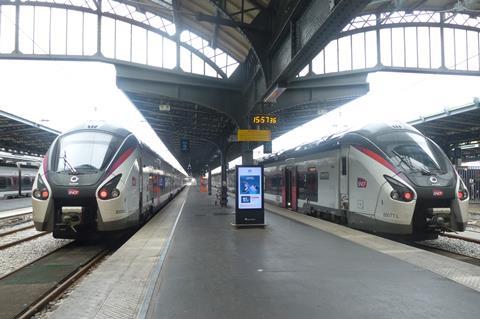 Paris – Troyes services have been operated by Alstom Coradia Liner electro-diesel trainsets since 2018, and these will now use electric power from Paris to Nogent-sur-Seine.
The hourly Paris – Provins services operated as part of Transilien Line P have been operated by Bombardier Transportation AGC electro-diesel multiple-units since 2008. These have now been replaced by 22 Bombardier Francilien Z50000 EMUs which were funded by Île-de-France-Mobilités at cost of €220m. The introduction of the EMUs involved installing equipment to support selective automatic door opening and upgrading platforms for accessibility.
Following electrification of the Provins route, 11 of the AGC trainsets have been transferred to the 35 km Meaux – La Ferté-Milon branch of Line P, the last section of the Paris hinterland network which is not electrified, while the rest will be offered to other regional transport authorities.
Future electrification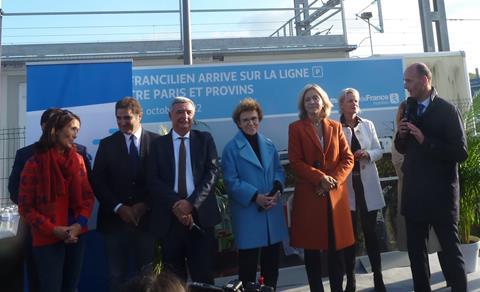 Wiring of the 56 km from Nogent-sur-Seine to Troyes is planned by August 2028.
Île-de-France-Mobilités has begun studies for electrification from Meaux to La Ferté-Milon, with the authority's President Valérie Pécresse saying the region has its share of the necessary funding and is awaiting a decision regarding contributions from the national government.