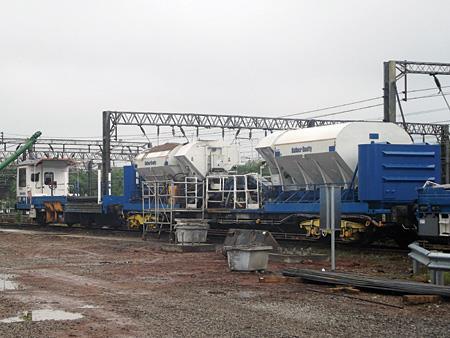 UK: Contractor Balfour Beatty Rail is using a High Output Concrete Train with mixing units commissioned from Nurock Mixers to produce electrification mast foundations for Network Rail's electrification programme between Liverpool and Manchester.
HOCT is designed to be used instead of delivering pre-mixed concrete to the nearest access point. The manufacturer of the customised production plant says the design is particularly suitable for use in remote locations and where demand for concrete is intermittent.
The HOCT is assembled from equipment modified to fit the tight UK loading gauge and mounted on ISO container bases. There are compartments for unmixed sand, aggregate, cement and water, along with two 7 m3 NUVM7 mobile concrete batching plants. The continuous mixer can be stopped and started using a handheld remote control, with computer monitoring of up to 50 different mixes to ensure quality and traceability. The HOCT offers a constant hourly output and the ability to produce only the quantity of concrete needed, with a rotating turret to place the output either side of the track.
Nurock has provided Balfour Beatty Rail with the training required to change from a concrete procurer to a producer.