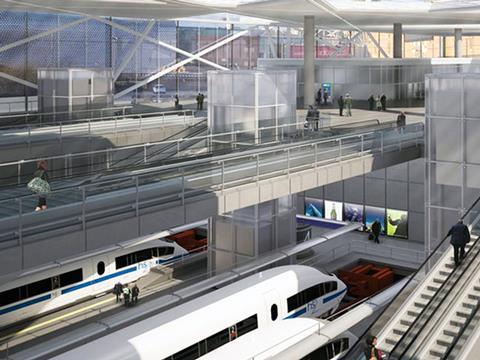 UK: The process of appointing contractors to supply slab track, electrification and tunnel ventilation systems for the Phase 1 London – Birmingham and Phase 2a Birmingham – Crewe sections of High Speed 2 was formally launched by project promoter HS2 Ltd on January 30.
The Lot 1 Track & Overhead Catenary System contract worth an estimated £1·55bn covers the construction of precast slab track on the open air sections of the route and precast or in situ slab track in tunnels. HS2 Ltd is to award a separate contract for design of the slab track, which would be novated to the winner of the construction contract. Ballasted track would be used within depots and at interfaces with the conventional infrastructure network.
HS2 Ltd has awarded SNCF Réseau a contract to prepare overhead catenary design information which will be made available to bidders for the Lot 1 contract. The chosen contractor would be responsible for design of the masts and gantries, within constraints set by HS2 Ltd.
Lot 1 also includes the construction of temporary railheads at West Ruislip and Calvert, a permanent infrastructure maintenance depot at Calvert and infrastructure maintenance bases at Stone and West Ruislip. The contractor would be responsible for running the construction railway until the end of dynamic testing.
The £330m Lot 2 contract for the Tunnel & Lineside M&E & Tunnel Ventilation works covers design, installation, testing and commissioning of fans, lighting, handrails, fire safety equipment and alarms. Nine tunnels totalling 40 km of bored and 8·8 km of cut and cover are planned for Phase 1. Large axial fans are envisaged for the longer tunnels and jet fans in the shorter tunnels.
Requests to participate in the two tenders should be submitted by March 21. HS2 Ltd expects to issue invitations to tender in October. 'We're looking for the smartest, most cost effective solutions that the industry has to offer' said CEO Mark Thurston.
The High Speed Rail (West Midlands – Crewe) Bill 2017-19 was due to receive its second reading in the House of Commons on January 30.