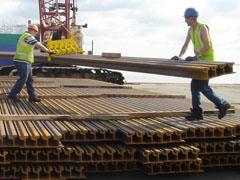 CAMEROON: A memorandum of understanding to co-operate in establishing the scope, cost and delivery programme for a 490 km railway linking planned iron ore mines to the proposed Lolabe port has been signed by Australian mining exploration company Sundance Resources and CRCC China-Africa Construction Ltd.
The proposed railway forms part of Sundance's Mbalam project to develop ore reserves in Cameroon and across the border in Congo. Output is estimated at 35 million tonnes/year, with exports to Europe, India and China.
A preferred route for a standard gauge line has been identified, and applications for legal powers were submitted to the Lands Ministry in April. Aerial surveys and geotechnical investigations have carried out, with alignment optimisation undertaken by Calibre Rail.
CRCC China-Africa Construction could be awarded a construction contract following the scoping studies. 'Their depth of experience and strong presence in the region and the vast resources of their parent corporation, China Railway Construction Corp Ltd, give us great confidence in the outcome', said Sundance Chairman George Jones on September 8. 'I understand that our colleagues at CAC already have a team of more than 30 people underway on this task.'
However, the memorandum recognises that there are a range of government, funding and legal requirements to be met before construction can go ahead, and neither party is bound to enter into a construction contract 'if it is not prudent to do so'.