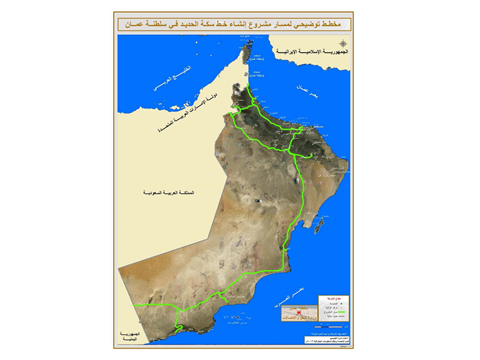 OMAN: The government's railway project promoter Oman Rail Co has formally invited 18 pre-qualified international consortia to bid for the civil works contract for the Sohar – Al Buraymi first phase of the planned 2 244 km national network. A total of 34 consortia bringing together 95 local and international companies had registered interest.
Bids are to be submitted by December 21, and must include proposals to work with one of the five consortia which have prequalified for the railway systems subcontract. These are led by Alstom, Ansaldo STS, Bombardier/Sirti, Siemens and Thales
Italferr has undertaken preliminary designs for Phase 1, which comprises three sections of route totalling 171 km linking the port of Sohar to Buraymi and the border with the UAE. Construction of Phase 1 is planned to start in 2015 for completion in 2018.
Meanwhile, award of the project management consultancy contract has been pushed back until October; Korea Rail Network Authority/Dohwa Engineering, Técnicas Reunidas and Parsons International have been shortlisted.
The national network is to be built in a total of nine phases. A standard gauge double-track mixed traffic network suitable for 120 km/h freight trains with a maximum axleload of 32·5 tonnes and 220 km/h passenger trains is planned, with 46 stations, eight marshalling yards and nine intermodal terminals. Around 40 mainline freight diesel locomotives would be required, plus 30 shunting locomotives and a passenger fleet.
Oman railway network construction phases
Phase
Route
Length, km
1a
Sohar – Sunaynah – UAE border (near Al Aïn)
136
b
Al Buraymi branch
27
c
Suhar yard branch
8
2a
UAE border (Al Aïn) – Sanaw
330
3a
Sanaw – Ad Daqm
340
4a
Ad Daqm – Thamarit
554
b
Thamarit – Salalah Port
142
5a
Sohar Port – Masqat (Al Misfah)
242
b
Masqat station
20
6a
Al Misfah – Sanaw
146
7a
Sanaw – Ibra
84
8a
Thamarit – Al Mazyunah (border with Yemen)
157
9a
Sohar Port – Khatmat al Malaha (border with UAE)
58
Total
2244