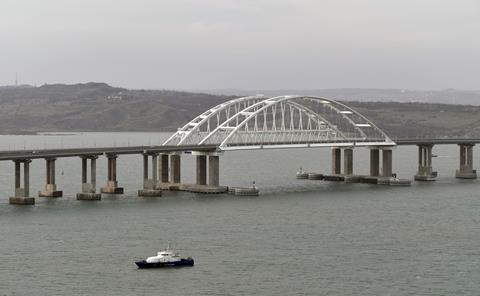 EUROPE: The 18·1 km railway bridge across the Kerch Strait connecting Russia and Crimea was formally inaugurated by President Vladimir Putin on December 23.
Described by Putin as not the longest railway bridge in Russia but the longest in Europe, the structure has taken 47 months to build; the parallel 19 km road bridge was opened on May 15 2018. It replaces a train ferry across the strait.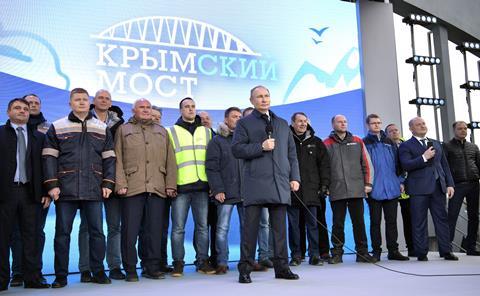 The railway across the bridge forms part of an 80·2 km rail link from Vyshestebliyevskaya in Russia's Krasnodar district to Bagerovo, west of the Crimean port of Kerch. This also serves a new freight terminal at Taman on the eastern side of the strait. To the west, a more direct alignment has been built between Bagerovo and a new station at Kerch Yuzhnaya south of the town, including a 950 m tunnel.
The double-track line is currently operated by diesel trains, but RZD expects to complete electrification at 25 kV 50 Hz by June 1 2020, when the link will be opened for regular freight services.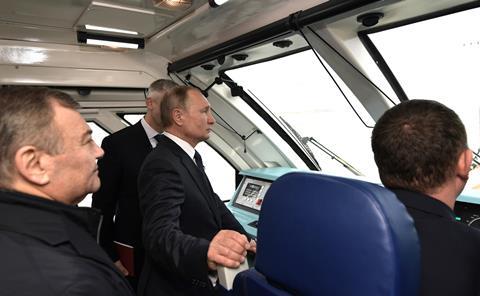 Following the opening ceremony, Putin crossed the new bridge in the cab of a Class RA2 diesel multiple-unit, accompanied by Russian transport minister Yevgeny Dietrich. Also participating in the inaugural trip were the owner of bridge construction contractor SGM-Group, Arkady Rotenberg, and the company's Director General Alexander Ostrovsky.
The first revenue train to use the bridge was The St Petersburg – Sevastopol Tavria express operated by Grand Servis Express, which crossed at 02.30 the following morning.