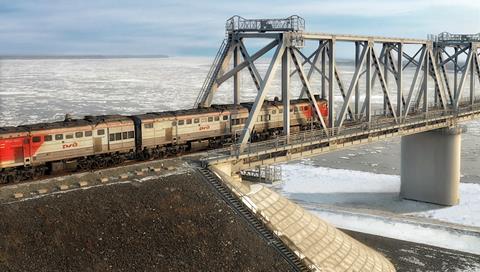 ASIA: The cross-border railway bridge over the River Amur linking Nizhneleninskoye in Russia with Tongjiang in China opened on November 16, with an initial 50-wagon train carrying iron ore from Russia to China.
The bridge shortens the route between southeastern Siberia and the Jewish Autonomous Oblast and the northern Chinese province of Heilongjiang by around 700 km.
Both 1 520 mm and 1 435 mm gauge rails have been provided on the single-track bridge. The main structure is 2·2 km long, with the approach ramps extending the overall length to 7·2 km. Maximum speed over the bridge is 100 km/h.
As part of the work, the existing Leninsk-1 station at Nizhneleninskoye has been rebuilt and augmented by a new Leninsk-2 station providing border control facilities.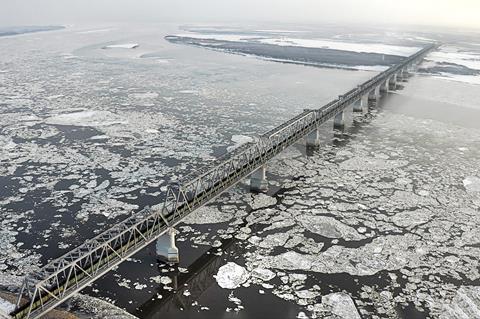 Iron ore movements from Russia to China are expected to form the principal traffic over the Amur bridge for the time being. The line is initially limited to freight traffic, with passenger trains not operating because of pandemic-related travel restrictions in China.
The link is initially expected to carry up to 5·2 million tonnes of freight per year, which is the equivalent of eight trains each way per day. The figure is projected to increase to 21 million tonnes per year, when the ongoing modernisation of the 121 km Birobidzhan – Leninsk railway has been completed.
Although China and Russia signed an agreement to build the cross-border bridge in October 2008, construction did not start until 2016. The work was completed in August 2021, but inauguration of the new link was delayed by flooding along the Amur river that summer.