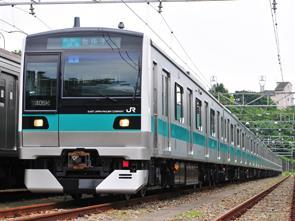 JAPAN: East Japan Railway has selected Thales as preferred bidder for a contract to design a communications-based train control system for Joban Local Line in the greater Tokyo area. The scope includes 14 stations on the 29·7 km Ayase - Toride route, along with 70 trainsets.
Subject to a final contract being agreed, Thales will undertake design work which is expected to take about a year. If JR East then determines that the proposed system would meet its requirements, Thales would be asked to supply and install CBTC to go live around 2020.
The CBTC installation would then be compared with the domestic Advanced Train Administration & Communications System which JR East has piloted on its Senseki Line and is to be deployed on the 37 km Saikyo Line between Ikebukuro and Omiya by late 2017.
'With this contract Thales becomes the first non-Japanese company to enter the Japanese signalling market, via the city of Tokyo, home to the world's busiest railway network', said Jean-Louis Moraud, Country Director of Thales in Japan, on January 8. 'Thales is pleased to bring its latest signalling technology and experience in urban rail systems modernisation to a country that already benefits from great advances in the transport sector.'
Thales said its CBTC has been proven on more than 55 projects covering more than 1 300 track-km carrying 3 billion passengers/year in cities worldwide.
JR East had received 10 expressions of interest in the CBTC trial contract, before shortlisting Alstom and Thales in February 2013. The project forms part of JR East's plans to replace its life-expired automatic train control with more modern technology offering shorter headways, higher capacity and improved life-cycle costs, with less lineside cabling and fewer skilled maintenance staff needed.
French Foreign Trade Minister Nicole Bricq said the selection of Thales was 'a sign of opening up on the part of the Japanese authorities which I must welcome', following moves by the French government to ensure that the start of negotiations on a free trade agreement between Europe and Japan were accompanied by 'real measures' to make the Japanese market more accessible.