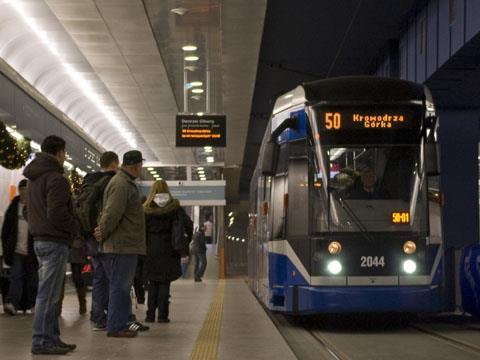 POLAND: Trams began regular Route 50 services through a 1 538 m pre-metro tunnel beneath Kraków's main station on December 12. The tunnel was planned in the 1960s as part of a proposed east–west metro line, which was subsequently dropped in favour of a north–south pre-metro. Construction was undertaken intermittently from the 1970s, with final track and electrification works completed last year.
As it is the first pre-metro tram tunnel in Poland, new safety measures had to be devised for the line and its two sub-surface stops, one of which is immediately below the main station. The double-track line is fitted with signals, but drivers are permitted to pass red lights on a line-of-sight basis.
At present, only Bombardier NGT6 trams are allowed to use the tunnel, but city transport operator MPK Kraków plans to acquire 24 second-hand E6 cars and C6 trailers from Wien. These E6 cars will be rebuilt with new low-floor centre sections using parts from the C6 cars.
The city will also take delivery of 15 second-hand E1 trams and five C3 trailers from Wien, and plans to buy a further 25 new trams suitable for use in the tunnel. These will enable Route 5 from Nowa Huta to be diverted via the pre-metro.