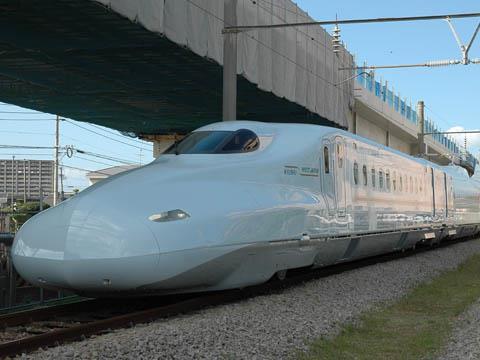 JAPAN: JR Central is stepping up efforts to sell Shinkansen technology to other countries. Announcing details of an export version of the Series N700 trainset called the N700-I Bullet at the HSR Summit in London last month, JR Central's Senior Executive Director Tsutomu Morimura emphasised the need to consider Shinkansen technology as an integral package. With fully segregated track, it was possible to use very lightweight trains such as the N700, he said, achieving major advantages in terms of energy consumption.
Morimura revealed that the N700-I Bullet had been suggested for the US market during a visit earlier this year to Washington by JR Central Chairman Yoshiyuki Kasai. Based on proven technology, the train was intended 'for worldwide use', Morimura said, 'although we have not specified a target market yet'. He explained that the plans to export N700 technology had arisen following the recent launch of JR Central's Consulting & Co-ordination Office; the project was intended to help stimulate business for Japanese industry and would build on experience gained in Taiwan.
Thanks partly to its low axleload of 112 tonnes, JR Central's 16-car N700 offers a weight per seat of 05 tonnes. The N700-I Bullet would differ from the N700 in having a flexible formation of eight to 15 cars and a maximum speed of 330 km/h. The eight-car version would have all axles motored, seats for 636 passengers and a laden weight of 057 tonnes per seat.