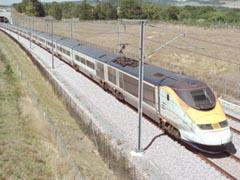 EUROPE: The long-planned restructuring of Eurostar, the cross-Channel high speed rail operator, was formally completed on September 1, the company has confirmed.
The restructuring has seen the unincorporated tri-national partnership under which Eurostar was created replaced by Eurostar International, a conventional three-way joint venture with its own staff and accounting procedures. Eurostar International is majority-owned by SNCF with a 55% stake, whilst the UK government currently holds 40%. SNCB retains a 'sleeper' share of 5%.
The idea of creating a single corporate entity for the business was first proposed in 2003 under 'Project Jupiter', but the prospect of on-rail competition for international services to London has given the process greater urgency.
Eurostar also announced plans in March this year to accelerate the restructuring as a means of improving managerial effectiveness in the wake of the failures that saw five heavily-loaded Eurostar services fail in the Channel Tunnel during the night of December 18-19 2009.
A Eurostar spokesman said that the completion of the legal process to create Eurostar International was 'very much an internal milestone', and the company was keen to stress that it was 'business as usual' for its passengers.
Meanwhile, Eurostar Chief Executive Nicolas Petrovic told French newspaper Les Echos on September 1 that 'from tomorrow, we will be able to attack other markets … we can push the brand further into Europe.'