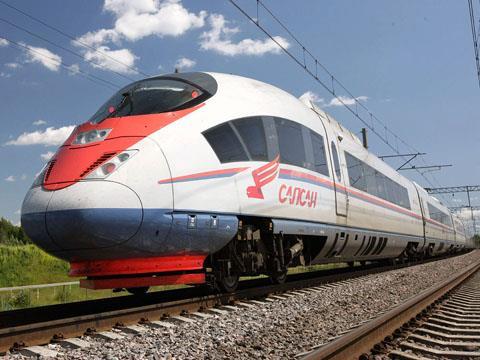 RUSSIA: A Sapsan high speed train made its first demonstration run on the Moscow - St Petersburg line on July 30, reaching 250 km/h as it carried guests including RZD President Vladimir Yakunin and Governor of St Petersburg Valentina Matviyenko to the formal opening of a maintenance depot in St Petersburg.
Siemens will maintain the Sapsan trainsets at the modernised Metallostroy depot under a 30-year contract with RZD, which has declared its ambition of making the October Railway 'the best in Europe.'
'Many devices and areas of technology are being used for the first time,' Yakunin said at the ceremony to mark the reopening of the depot. 'Entirely new devices for changing the bogies on electric trains are being used for the first time in Russia, and an original device for changing wheels is being used for the first time in the world.'
'The involvement of Russian scientists and specialists in the Sapsan production project provides a good impetus to the introduction of cutting-edge innovation technology to Russian industry,' he continued. Siemens and other foreign suppliers have expressed willingness to move train production to Russia if orders are increased. 'Today we can speak of Russian Railways not only as a large transport company, but as an innovative environment, open to both Russian and foreign business partners', said Yakunin.
Siemens has now shipped four of the eight Velaro RUS trainsets, branded Sapsan by RZD, which are being built at the Krefeld plant in Germany. Revenue services will be launched in December, bringing Moscow - St Petersburg journey times down to 3 h 45 min from the current fastest timing of 4 h 30 min. RZD says the average time for competing flights is at least 5 h, once getting to and from the airports and check-in have been included.