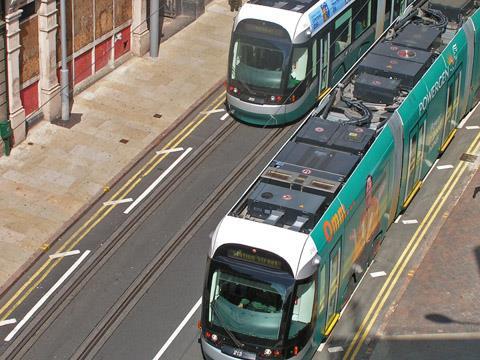 UK: Transport Minister Sadiq Khan travelled to Nottingham on July 31 to announce conditional approval of government funding and a workplace parking levy to finance expansion of the Nottingham Express Transit light rail network.
The government's contribution to NET Phase Two is capped at £530·7m in Private Finance Initiative credits. Nottingham City Council will provide a further £149·5m through the parking levy, which the government has approved on the condition that it is delayed by two years until April 2012 in the light of the current recession; the shortfall will be made up through £13m of additional PFI credits. The levy will also support a £67m redevelopment of Nottingham station.
On March 30 the government approved the Transport & Works Act Order giving the city and Nottinghamshire County Council legal powers to build the two extensions to Beeston and Clifton totalling 17 km. Following a change of political control after local elections the county council will now not contribute to the project, but the city has satisfied DfT that it can provide the local funding in full.
The city council can now start the procurement process. Final government approval will only be given once firm costs are known, but construction is scheduled to start in 2011 for opening in 2014.