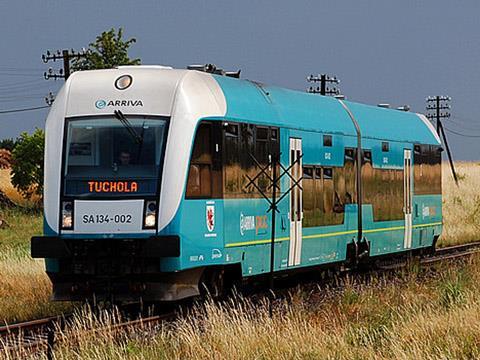 POLAND: On October 26 Kujawsko-Pomorskie voivodship selected incumbent Arriva RP for a 10-year contract to operate local passenger services on non-electrified routes from December 11.
Arriva's bid included a lower subsidy than the rival tender from Przewozy Regionalne, the former PKP regional train business.
A joint venture of Arriva and PCC Rail won an initial three-year contract to operate the routes from December 2007. Piotr Calbecki, Marshal of the voivodship, said the longer duration of the new contract will enable Arriva to invest in rolling stock and ticketing.
The operator is now known as Arriva RP, reflecting PCC Rail's acquisition by DB Schenker and Arriva being taken over by DB. It also operates two lines in Pomorskie and Warminsko-Mazurskie.