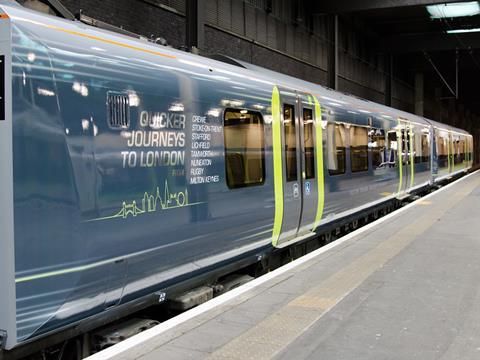 UK: The maximum speed of 30 Class 350/1 Desiro electric multiple-units operating on the West Coast Main Line has been raised from 160 km/h to 177 km/h (110 mile/h) under Project 110, which brought together operator London Midland, train manufacturer Siemens, rolling stock leasing company Angel Trains, infrastructure manager Network Rail and the Department for Transport.
The higher top speed has enabled London Midland to cut up to 35 min from Crewe - London timings, and to run two services in what was previously a single 160 km/h train path.
The project was 'an order of magnitude cheaper than a route upgrade', according to Steve White, Siemens UK Service Director. 'But whilst the idea seems simple, the reality is far more complex as everything on the train is designed around a continuously rated 160 km/h. In effect the proposal required us to go right back to square one and revalidate all of the engineering designs and the approvals process.'
Siemens identified 170 potential technical issues, and approval and testing took 2 700 man-hours.
The existing squirrel cage rotor short-circuit rings within the traction motors could not cope with the extra forces at higher rev/min, and on EMUs with worn wheels the combined effect could be an additional 1 000 rev/min. Lateral dampers on the bogies were changed, along with the aerodynamic properties of the Brecknell Willis pantographs. Braking performance under full load conditions was tested using collapsible water-filled containers originally designed to represent passengers when testing lifeboats.
Single four-car units began operating at 177 km/h in December 2012, and changes made to train management software ensure that coupling to another unit automatically restricts the maximum speed to 160 km/h.
Operation in multiple will require work to address harmonics in the overhead line created by more than one raised pantograph, but two or three-unit formations are expected to be operating at 177 km/h from December 2013.
Siemens Class 350/3 and 350/4 EMUs on order for London Midland and First TransPennine Express will have 177 km/h capability from new. 'With the delivery of 10 new Class 350/3 trains in 2014 we will be able to run a peak Project 110 timetable', said London Midland Managing Director Patrick Verwer. 'This will mean an extra three morning peak trains into London and five evening peak trains from London with over 4 000 extra seats'.