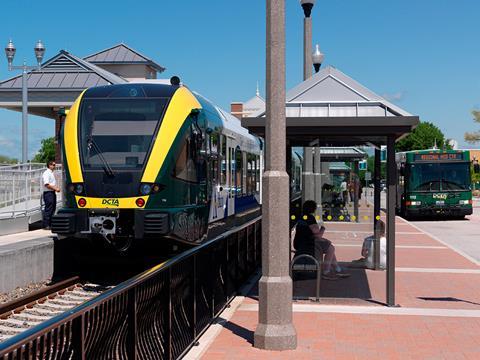 USA: UK-based FirstGroup has signed its first rail contract in North America, covering the operation and maintenance of Denton County Transportation Authority's 34 km A-train commuter line which connects Denton with Dallas in Texas.
The contract awarded to FirstGroup's North American subsidiary First Transit is scheduled to come into effect on October 1 and will run for nine years, with an option for a further five years. FirstGroup expects revenues of approximately $9m/year.
First Transit already operates bus and demand-responsive transport services for DCTA, with a fleet of more than 70 vehicles. 'We're excited to extend our partnership with First Transit to our A-train rail operations and maintenance,' said DCTA President Jim Cline when the contract was announced on July 20. 'First Transit's innovative solutions in rail infrastructure maintenance will enable us to provide enhanced rail services for the many communities we serve.'
The A-train service between Denton and the DART Green Line station at Trinity Mills was launched in 2011. It is operated using a fleet of 11 Stadler GTW 2/6 diesel multiple-units, has five stations and carries more than 500 000 passengers/year.
FirstGroup said the US rail sector 'offers a number of potential opportunities in a market that is increasingly focused on outsourcing'.
'This contract for A-train represents an exciting new development for the group and we welcome the opportunity to develop and share our rail expertise with a progressive partner such as Denton County Transportation Authority', said FirstGroup CEO Tim O'Toole. 'Our US rail team blends our significant experience in rail in the UK with North American transit expertise in both rail and bus. We look forward to building on this success as we explore further opportunities in the sector.'