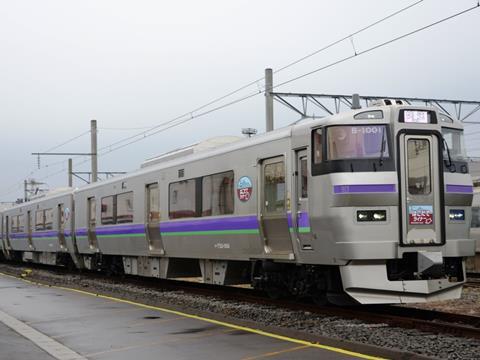 JAPAN: JR Hokkaido has unveiled the first of its Series 733-1000 EMUs for the Hakodate Liner shuttle service, which will be introduced on March 26 to coincide with the opening of the first phase of the Hokkaido Shinkansen.
Four three-car sets are being built to operate the shuttle which will connect Hakodate with the new Shinkansen station at Shin-Hakodate-Hokuto, 17·9 km north of the city. Serving as a temporary terminus for the first stage of the high speed line, this station has been sited to facilitate the future extension of the route to Sapporo.
JR Hokkaido plans to operate 16 shuttle trains each way per day between the Shinkansen terminus and the existing station in the city centre. In addition, there will be 12 Super Hokuto and Hokuto Limited Express services each way between Hakodate and Sapporo, calling at Shin-Hakodate-Hokuto to connect with Hokkaido Shinkansen services.
The Hakodate Liner EMUs are derived from the stainless steel-bodied Series 733 sets which were introduced on Sapporo suburban services in June 2012. Built by Kawasaki Heavy Industries, this fleet totals 21 three-car units plus a further six Series 733-3000 sets delivered in 2014 to work rapid services between Sapporo and Chitose Airport.
Opening of the Hokkaido Shinkansen will see the withdrawal of the current Super Hakucho and Hakucho Limited Express trains between Shin-Aomori and Hakodate, the Hamanasu express between Aomori and Sapporo, and the Cassiopeia overnight sleeping car trains between Tokyo and Sapporo.