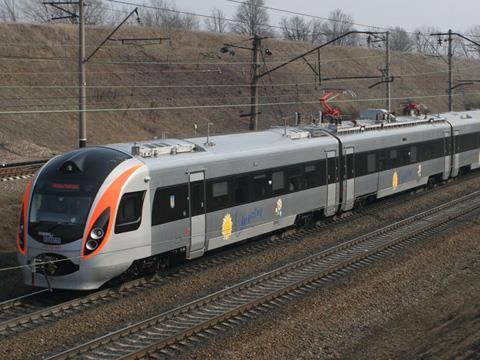 UKRAINE: National railway UZ has started driver training and commissioning runs with three of the 10 HRCS2 inter-city electric multiple-units being supplied by Hyundai Rotem.
The next unit is expected to arrive in mid-May, with the four scheduled to enter revenue service in time for the Euro 2012 football championships in early June.
According to UZ, the EMUs will operate three services each way per day between Kyiv and L'viv, three each way between Kyiv and Kharkiv and two each way between Kyiv and Donetsk. Although designed for 180 km/h, they will initially run at up to 160 km/h.
The 1 520 mm gauge nine-car EMUs able to operate on 25 kV 50 Hz and 3 kV DC are being supplied under a US$307m contract signed in December 2010.
The stainless-steel cars are 21·7 m long and 3 500 mm wide, and the EMUs have seats for a total of 579 passengers, arranged 2+2 in first class and 2+3 in standard.
The first trainset to arrive was unit 002, which was delivered to Odessa on March 11 and hauled to Kyiv four days later. Unit 001 arrived on March 17, and 003 was delivered on April 9, being officially handed over to UZ on April 15. The fourth unit is expected to arrive in mid-May, followed by the fifth and sixth unit in early June. The other four will follow in July and August.
During initial discussions with Hyundai Rotem in 2009, UZ had also envisaged ordering four similar diesel inter-city trainsets, but this was subsequently dropped from the final contract for lack of funding.