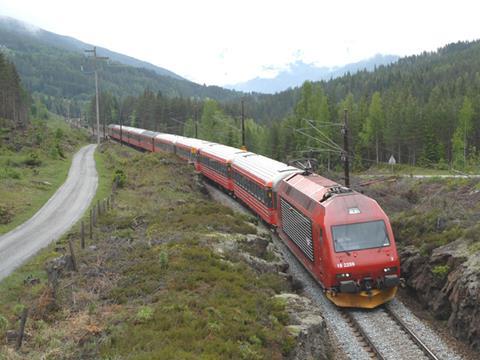 NORWAY: The government has published its national transport strategy for 2014-23, setting out proposals to spend a total of NKr168bn on rail, up 49% from the current 10-year plan.
Double-tracking the central section of the inter-city network radiating from Oslo to Tønsberg, Hamar and Fredrikstad is seen as a priority. The NKr58bn cost would include making 167 route-km suitable for 250 km/h running where this would not be substantially more expensive than the work required for the current inter-city standard of 200 km/h.
Planning will also be undertaken for double-tracking and the introduction of 250 km/h running from Oslo to Skien, Lillehammer and Halden by 2030.
Other major projects are a second tunnel bore between Bergen and Arna, the start of construction of the Ringeriksbanen, electrification of the Trønderbanen and Meråkerbanen, and double-tracking between Stjørdal and Hell. Freight capacity would be increased across the network, including on the Ofotbanen, the Norwegian section of the heavy haul route from Sweden to Narvik.
A total of NKr15bn is allocated to safety, environmental measures, technology, stations and the rolling stock needed for the introduction of a regular-interval timetable around Oslo. Electrification of the Rørosbanen, Nordlandsbanen and Raumabanen is to be studied, along with a second cross-city tunnel through Oslo.
There will be a 45% increase in the maintenance and renewal budget, and a strategy to improve resilience during extreme weather. The aim is to reduce cancellations by 60% and delay-hours by 30% by the end of the 10-year period.
The renewals budget includes NKr6bn for ERTMS; the costs of replacing all existing signalling is estimated to be NKr15bn to NKr20bn.
Although the plan calls for substantial increases in spending, criticisms have been voiced. National passenger operator NSB argues that the government should focus more on maintenance and renewals than new lines, while pressure groups have noted that the national infrastructure plan is revised every five years, and much of the proposed investment is envisaged for the second, and less firm, five year period.