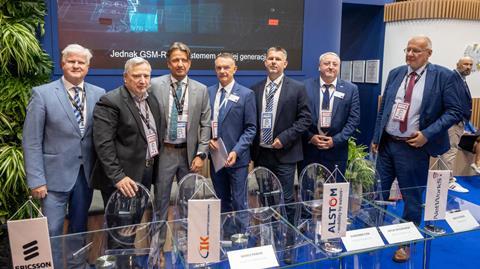 POLAND: A letter of intent for the implementation and testing of the Future Railway Mobile Communication System in Poland has been signed by Alstom, Ericsson, NetWorks and rail research organisation Instytut Kolejnictwa.
The signatories plans to engage in joint research and development, verify requirements under real-world railway conditions and develop FRMCS training and certification.
Under the terms of the letter, Alstom would provide vehicle control subsystems, Ericsson a radio network for the FRMCS pilot, NetWorks the competencies in railway telecoms including the construction and maintenance of the FRMCS test network, and Instytut Kolejnictwa infrastructure where the FRMCS can be tested.
'The digitisation of the Polish railway sector is a significant challenge facing all market participants, including rolling stock and technology suppliers and research institutions', said Instytut Kolejnictwa director Andrzej Massel on September 20. 'We wish to use our many years of experience, unique know-how and access to infrastructure to ensure that the process of testing, certifying and implementing FRMCS on Polish tracks goes as smoothly and quickly as possible.'