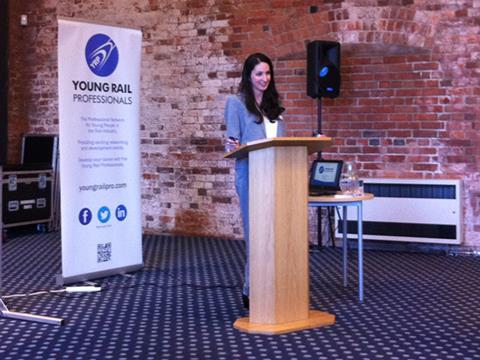 UK: Membership of the Young Rail Professionals networking and ambassadorial organisation has doubled in the past year to reach more than 2 000, Chairman Stephen Head told an audience of corporate supporters in Derby on March 31.
Mounting concern over the rail industry's ability to attract and retain the staff to support a burgeoning programme of investment in both existing and new railways has led to a proliferation of organisations from across industry, academia and government all seeking to address the skills gap.
But, as Head pointed out, many of these efforts focus strongly on technical disciplines, while YRP has sought to develop a collaborative approach which reflects the full spectrum of roles in the industry; around half of YRP's membership is drawn from non-engineering roles.
'Attracting young people to rail and then developing them requires a diverse approach which recognises the diversity of jobs they could be doing', Head explained. 'While having 28% female membership is significant, more significant is the fact that we include lawyers, marketing staff and human resources people.'
Head reported that the question he is most often asked is 'how young is a young professional?' But this overlooks the important role that more experienced staff in their 30s and older can have in supporting younger colleagues and helping them to identify a future career path, he suggested.
Key to YRP's growth since its inception in London in 2009 has been the foundation of a series of regional branches, with more than 150 professionals attending the launch event for the East Midlands branch in October 2014, and groups in northwest England and the West Midlands have also been inaugurated in recent weeks. 'This gives more young people the chance to participate in the regions where they work', explained YRP Ambassadors Manager Mary Ann Lew.
YRP runs a broad outreach programme aimed at promoting rail to school pupils and university undergraduates, with YRP often participating in joint university presentations with other bodies including the Rail Research UK Association, the National Skills Academy for Railway Engineering and the professional technical institutions. So far these university presentations have reached 180 students at 16 institutions, Lew reported.
YRP's future development plans include the introduction of an online career information portal, a formal cross-industry 'buddy' scheme to ensure young entrants have like-minded role models, and an online work experience and internship forum aimed at school pupils and students.
The Railway Gazette Group is a corporate supporter of Young Rail Professionals. More information can be found at www.youngrailpro.com