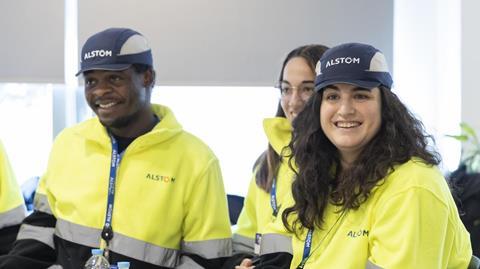 SPAIN: Alstom has launched a further edition of its Talent Energy internship programme in Spain, aimed at students in the final year of a bachelor's or master's degree as well as recent graduates.
Now in its 11th year, the initiative combines academic and professional experience to train young talent in the rail sector. The programme lasting between six and 12 months offers post-graduate training scholarships and professional work placements at Alstom sites in Madrid and Barcelona.
Submissions are open until October 13 and the programme will start in November.
This year, Alstom will take on 18 interns in Spain with different academic backgrounds including Industrial Engineering, Industrial Organisation, Digital Transformation, Electrical Engineering and Business Administration & Management among others.
Successful candidates will start working in the company's factory at Santa Perpètua near Barcelona, at its signalling and safety technology centre in Madrid, or at one of its other maintenance or digital technology facilities across Spain.
'With this successful programme, in which more than 300 graduates have already participated, we provide opportunities for last-year students and recent graduates to continue their personal and professional development in a global company such as Alstom. The promotion of young talent and their professional growth is a strategic pillar for our company', said Stéphanie Burik, Alstom Human Resources Director for Spain & Portugal on September 6.