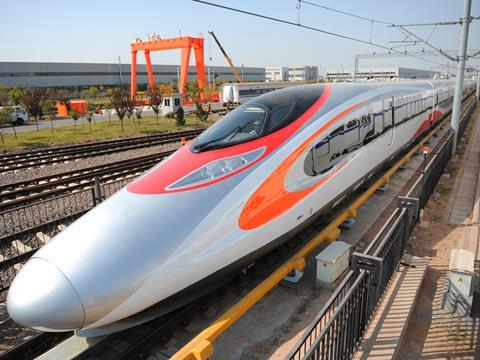 UK: High speed train builder CSR Qingdao Sifang is to establish a centre for railway research and development in the UK under a series of co-operation agreements signed with three British universities during the Railtex 2015 exhibition in Birmingham on May 12.
To be developed by CSR Sifang in co-operation with Imperial College London, the University of Southampton and the University of Birmingham, the China-UK Joint Research & Development Centre for Rail Transit Technology will undertake research in variety of areas related to rolling stock development for high speed trains and metros, including air-conditioning and energy systems integration.
A memorandum of understanding with the Birmingham International Railway Academy was signed by the Director of the CSR Sifang Technology Centre Ding Sansan and University of Birmingham Pro Vice-Chancellor Michael Whitby, supported by Prof Clive Roberts, Director of the Birmingham Centre for Railway Research & Education and Anson Jack, Director of the Birmingham International Railway Academy.
According to Chief Engineer Liang Jianying, CSR Sifang is pursuing a global strategy to harness the best railway research around the world, establishing an 'open innovation mechanism' which will integrate research and production. The company announced in November 2014 that it was establishing a research centre in Thailand. On May 11 it signed another strategic partnership with the Technical University of Dresden and the University of Stuttgart, for a research centre in Germany which will have a particular focus on the development and use of lightweight materials.
Speaking in Birmingham, CSR Corp Vice-President Wang Jun said that increasing exports was a top priority for CSR. 'To realise our vision of going global, we need to put the improvement of technology at the top of our agenda', he explained. That meant 'co-operating with world-class universities to obtain as many technology resources as possible.' He believed that the UK research centre would 'serve as a cornerstone for CSR to build an international open R&D platform and innovation mechanism'. Funding will be provided by both CSR and the universities, with research projects typically costing around £2·5m each, he explained.
Wang Jun told Railway Gazette that the merger between CSR and CNR Corp to create the world's largest railway equipment manufacturer would be completed by the end of this year.