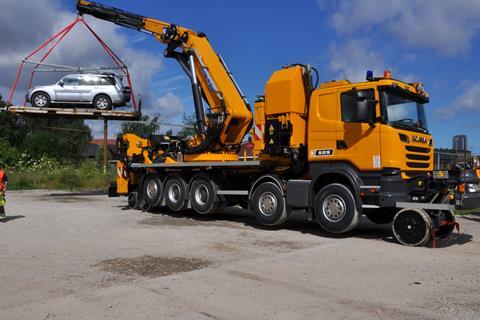 SPAIN: Hiab has won a €7·5m order to supply eight iX.2758 RAIL super-heavy loader cranes for installation on Tecnove vehicles for railway rapid response, recovery and emergency use. The deal includes five years of support.
The iX.2758 RAIL is the largest crane in the manufacturer's recently launched range designed to meet railway requirements and standards. It has a maximum lifting capacity of 20 tonnes and 10 m reach, and can operate under overhead cables and in other confined spaces such as on metro networks.
'This innovative loader and rescue crane is a door opener for Hiab into the worldwide railway industry', said Ronald Verzijl, Managing Director of Hiab Iberia.
Aldino Zeppelli, Senior Vice-President Loader Crane Heavy & Super Heavy, said 'this is only the beginning of our ambitious plans to become one of the preferred suppliers to the railway industry with the best customer experience. We see a great potential in expanding our offering to the railway industry and with the introduction of the RAIL series, we have created more choice for the customers.'