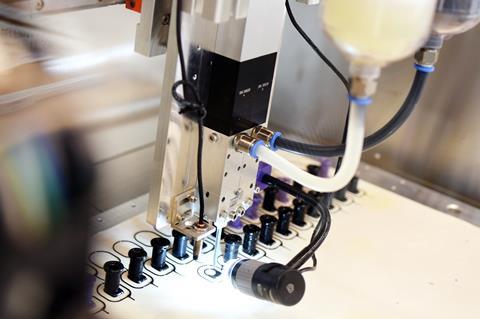 AUSTRIA: Faced with the need to source replacements for obsolete components which are used to reduce vibration and prevent dust and moisture ingress on multiple-units, Austrian Federal Railways' rolling stock maintenance business ÖBB Train Tech approached Chromatic to discuss the possibility of using 3D printed parts.
Prototypes were produced, followed by an order for 130 grommets, bellows, cable glands and valve covers.
These were printed with thermoset polyurethane using Chromatic's RX-AM reactive extrusion additive manufacturing platform.
The load-bearing grommets have dense solid walls 15 mm thick, with the same three-dimensional strength and compression set as injection moulded parts.
'Now that ÖBB is demonstrating the use of our 3D materials in rail applications, we expect customers with demanding transport, aerospace, industrial and defence applications will have confidence in Chromatic's products and printing technologies', said Dr Bart Engeldahl, Managing Director of Chromatic 3D Materials.