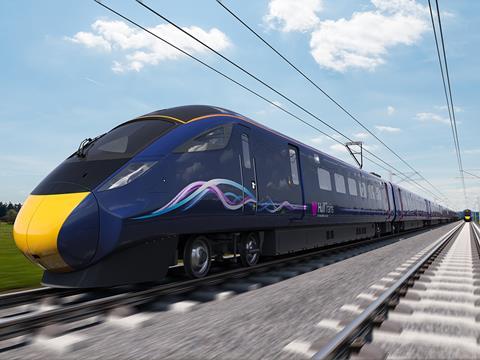 UK: Contracts worth £60m for Hitachi Rail Europe to supply and maintain five AT300 five-car electro-diesel multiple-units for use by open access company Hull Trains were finalised by the operator's parent company FirstGroup and leasing company Angel Trains on November 2.
This follows the granting of a 10-year track access agreement to the Yorkshire – London open access operator, running from 2019 until December 2029.
Hitachi is to build the AT300 trainsets at its plant at Newton Aycliffe in County Durham, and maintain them at Bounds Green depot in north London. They are expected to come into service in 2019, running under 25 kV 50 Hz electrification on the East Coast Main Line and continuing on diesel power to Hull and Beverley.
The AT300 trainsets are to have 327 seats, air-conditioning, wi-fi and at-seat power sockets. They will offer faster acceleration than the Alstom Class 180 diesel multiple-units which Hull Trains currently uses, and this is expected to bring a 6 min reduction in Hull – London journey times. The AT300 units will be designed for a maximum speed of 225 km/h which Hull Trains hopes could be achievable in the longer term, although infrastructure constraints will limit the service speed to 200 km/h for the foreseeable future.
'Hull Trains is a great success story and its enduring high customer satisfaction scores really demonstrate how open access rail services can deliver for passengers in certain markets', said Steve Montgomery, Managing Director of FirstGroup's Rail Division. 'The new trains we are introducing will provide 20% more seats for our customers and also offer the potential for faster journeys. We also intend to invest in the current Hull Trains fleet to ensure they are fit for the next three years.'
Will Dunnett, Managing Director of Hull Trains, said using bi-mode units would 'bring the economic, social and connectivity benefits of electrification to the region now, including more sustainable trains, more jobs for local people and an ever better experience for customers'.