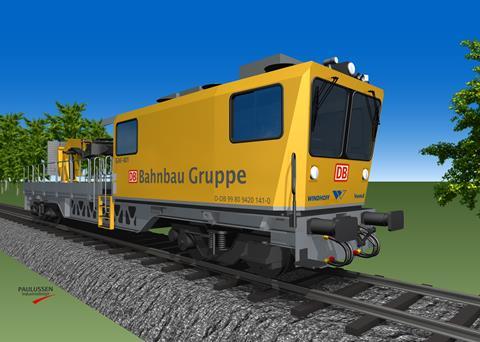 GERMANY: The national railway's infrastructure construction unit DB Bahnbau Gruppe has awarded Windhoff Bahn- und Anlagentechnik a framework contract for the supply of up to 10 diesel-battery multi-purpose vehicles, with a firm order for an initial three.
They will be a compact version of the VentuS four-axle MPV design, which offers better vehicle dynamics and a lower axleload than two-axle equivalents and will thus enable them to be used on all DB routes.
They will be equipped with diesel powerpacks plus traction batteries for quiet and emission-free work in urban areas.
The use of modular underfloor traction equipment enables the vehicles to have a large loading area for the transport of rails, sleepers, turnout components and tools. They will have a powerful crane, and a noise-insulated and air-conditioned cab with space for up to eight people
The modular design allows for future modifications to accommodate changing requirements throughout the vehicle's lifetime. These could include replacing the crane module with a welfare unit or potentially replacing the diesel engine with an alternative traction package; there is already provision for future conversion to overhead electric operation.
Windhoff VentuS MPV for DB
Length over buffers, m
16·5
Width, m
2·9
Weight, tonnes
57
Train protection
Indusi PZB90, prepared for ETCS
Radio
GSM-R