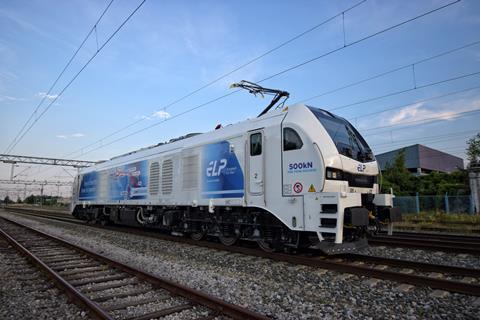 EUROPE: Type approval for the operation of Stadler EuroDual electro-diesel locomotives in Serbia is expected shortly, with approval for Slovenia and Croatia to follow by the end of the year, leasing company European Loc Pool has told Railway Gazette International.
Certification for further Balkan countries is planned for next year.
'We believe that EuroDual is an interesting locomotive for operators in the Balkans, because the railway networks in the Balkans are ones for which EuroDual was born', said Sales Account Manager Ľubomír Dlábik. 'The tracks have steep gradients, sharp curves and are on partly electrified or have limited axle loads.'
The six-axle EuroDual is rated at 6·15 MW under 15 kV 16·7 Hz or 25 kV 50 Hz electrification, or 2·4 MW when operating using diesel power.
Dlábik said a EuroDual would be able to haul a complete freight train up the steep gradient out of the Croatian port of Rijeka, eliminating the current need to split trains into two sections.
Plans to obtain approval for operation the Balkans were announced at InnoTrans 2022.
Locomotive 159 246 was given a special livery and named 'Leteći Balkanac' ('Flying Balkanian') for the trials, and sent to the region in May. Having overcome bureaucratic obstacles, it reached Croatia for trials on June 19. These were followed by tests in Slovenia. On July 3 it arrived in Serbia for trials, before returning to Germany.
Dlábik said ELP would offer EuroDual locomotives with a full maintenance package and guaranteed availability, so freight companies can focus on operations.