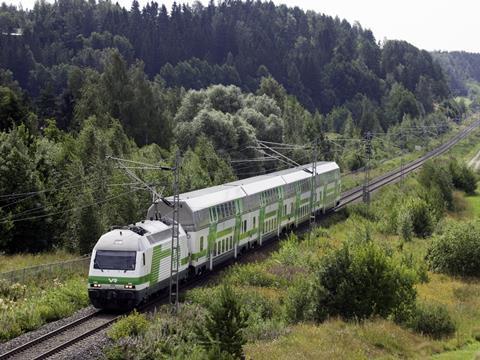 FINLAND: National infrastructure manager Liikennevirasto has brought into operation the Erex energy monitoring and billing system developed by the European Railway Energy Settlement System, the ERESS partnership announced on January 12. The agency becomes the seventh member of the not-for-profit organisation, alongside Banedanmark, Bane NOR, Infrabel, SBB, Trafikverket, and the Dutch railway energy procurement co-operative Vivens.
Founded in 2005, ERESS has developed Erex to provide a standard method of managing and billing for electric traction supplies. This enables infrastructure manager to bill train operators accurately on the basis of the precise amount of energy that they have consumed. Each traction unit is equipped with an onboard measuring system, which records energy consumption, time and position, using GPS location data, every 5 min. The metered data is transferred to the settlement system every hour, and processed in line with previously-agreed confidentiality rules.
According to ERESS, the collection of accurate energy data 'is also the starting point for other environmental initiatives', encouraging train operators to implement efficiency measures that could reduce energy use by up to 30%.
Project manager Juha-Matti Vilppo says the introduction of Erex will enable Liikennevirasto to manage accurately the energy consumed by trains in different parts of the country. 'The Erex system has been a key tool for opening up the railway market in Finland, and the whole process has followed the latest EU regulation', he explained, adding that implementation was 'much easier than expected'.