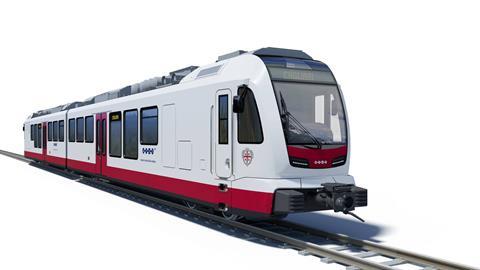 ITALY: Sardinian transport operator ARST and Ferrovie della Calabria have placed a joint order for 12 hydrogen powered multiple-units.
The €156m contract awarded to Stadler on June 19 is being funded from Italy's National Recovery & Resilience Plan. The 950 mm gauge trainsets will be 50 m long, with a capacity of 170 passengers and a maximum speed of 100 km/h. Deliveries are scheduled by December 2026.
The six trains for Sardinia are expected to operate on the existing 34 km line from Sorso through Sassari to Mamuntanas, and on a 7 km route to Alghero airport for which construction contracts are expected to be announced shortly.
The other six are to be deployed on the Cosenza – Catanzaro line operated by Ferrovie della Calabria. This line is to be modernised under a €188m project which includes the development of a plant for the production of green hydrogen.
'These are two very important goals which allow us to look to the future with great optimism', FdeC Director Ernesto Ferraro told local media. 'With the speeding up of the line, moving by train between Cosenza and Catanzaro will be cheap and convenient and we expect a substantial growth in passengers. In addition, thanks to hydrogen, our trains will have a low environmental impact and this makes us particularly proud.'
Both railways are included in a programme announced by the Ministry of Infrastructure & Transport in April for the replacement of diesel trains by hydrogen in six regions across the country, backed by €300m from the National Recovery & Resilience Plan. That allocated €24m towards the procurement of new rolling stock and €276m for the green hydrogen production, storage and refuelling equipment.