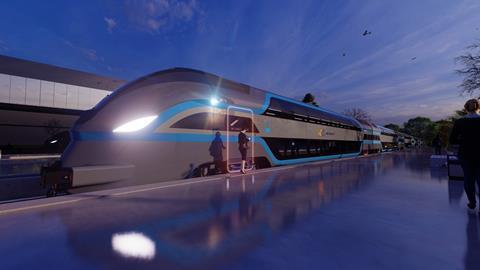 POLAND: National long-distance operator PKP Intercity reissued a tender for the supply of 38 seven-car double-deck push-pull trainsets together with 45 multi-system electric locomotives on August 1.
On August 4, it also called tenders for the supply of 46 electric locomotives.
Push-pull & loco bid
The operator explained that it had cancelled a tender for the 38 push-pull trainsets and 45 locos that it issued last year, as the 7·8bn złoty sole offer significantly exceeded the budget of 2·4bn złoty. PKP Intercity has now issued a revised tender, which it hopes will offer the market more flexibility. It has also increased the budget.
The trains would be the operator's first double-deck vehicles. It is planning to acquire seven-car trainsets with a capacity of 700 seated passengers and the ability to run at 200 km/h. They would be equipped to run in the Czech Republic and be fitted with ETCS onboard units.
The 228 intermediate cars would be able to operate as hauled coaches in other inter-city formations, as well as forming two to 10-car push-pull trainsets, excluding the driving car and loco.
The driving cars would feature first-class seats and a quiet zone, while the intermediate coaches would have second-class seats, a quiet zone, and area for families with children, vending machines, and space for bicycles and skis. Each of the fully accessible coaches would feature air-conditioning, USB and power sockets, wi-fi and CCTV.
The procurement was originally planned to be financed through the EU's Recovery & Resilience Fund, but due to the extended delivery deadline, these grants will now be used to fiance other rolling stock orders with a shorter timescale.
46 more locos
A separate procurement covers 46 locomotives for use on domestic services. These would be capable of 160 km/h operation and be equipped with ETCS. They are scheduled to be delivered within 26 months from contract signature, and PKP Intercity expects to put the first locos into service during 2025.
Under the national railway holding group's Large Railway Investment Programme, PKP Intercity plans to spend 24·5bn złoty on rolling stock replacement and modernisation by 2030. It is aiming to double the number of long-distance services and increase the number of passengers to nearly 90 million a year by the end of the decade. The operator carried 49 million passengers in 2019.