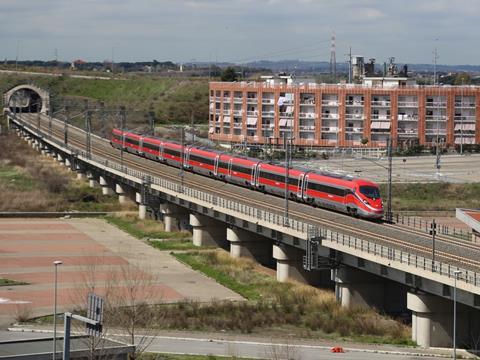 UK: Two weeks after the Italian state railway group entered the UK rail market by agreeing to acquire the Essex Thameside franchise from National Express, FS Italiane subsidiary Trenitalia UK announced on January 24 that it was joining FirstGroup to bid for the East Midlands franchise and the forthcoming West Coast Partnership.
The First Trenitalia East Midlands Rail joint venture submitted an expression of interest to the Department for Transport on the same day to participate in the competition for the next East Midlands franchise. This is scheduled to take over from the current franchise operated by Stagecoach subsidiary East Midlands Trains in July 2018. FTEM is owned 70% by First Rail Holdings and 30% by Trenitalia UK.
The two companies have formed a similar 70:30 joint venture, First Trenitalia West Coast Rail, to participate in the West Coast Partnership franchise competition announced by Transport Secretary Chris Grayling in November. WCP is intended to take over the operation of the InterCity West Coast franchise from April 2019. It will also to act as 'shadow operator' for the first stage of High Speed 2 between London and the West Midlands, and operate services on the high speed line for up to five years after it opens in 2026. The partnership will work with DfT to develop an integrated timetable to make best use of capacity on the West Coast Main Line released by the transfer of inter-city services to HS2.
First Rail Managing Director Steve Montgomery said FirstGroup had 'a strong track record in delivering continued modernisation and investment' through the Great Western Railway and TransPennine Express franchises and open access operator Hull Trains.
Noting that both partners had 'extensive expertise of running commuter, regional and long distance-services such as those that make up the East Midlands franchise', Montgomery said Trenitalia's experience of operating Frecciarossa services on the Italian high speed network would make it 'a world-class bidding partner' for the West Coast Partnership.
Trenitalia CEO Barbara Morgante added that 'the experience, competence, innovation and skills of our two companies, developed in international markets, represents a perfect mix to vie for these challenging bids. Trenitalia is ready to bring all its competencies to the partnership, both from a technical and commercial side, developed in the highly competitive Italian market.'
For in-depth coverage of the UK rail market, subscribe to Rail Business Intelligence. The West Coast Partnership concept will feature in issue 526 published on January 26.