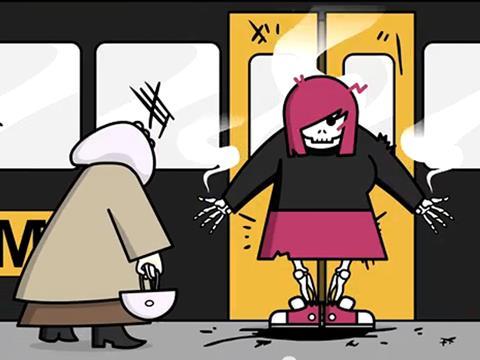 UK: A campaign to encourage passengers not to obstruct train doors has been launched on the Tyne & Wear Metro. This includes a specially-commissioned animation 'Use your brain near a train' which is being published via social media.
The campaign has been launched in response to recommendations made by the Rail Accident Investigation Branch in its report into an incident which took place at Jarrow station on April 12 2012, when a train departed with a passenger's arm trapped between the doors.
To reduce the number of 'deliberate door obstructions', RAIB had recommended that metro operator DB Regio Tyne & Wear should develop passenger education, awareness and enforcement action already underway 'into an ongoing long-term strategy', and introduce a system of monitoring the frequency of door obstructions 'in order to check the efficacy of these measures'.
DB Regio Tyne & Wear says that a survey carried out by two of its drivers as part of the RAIB investigation shows that there are 'at least 20 000 incidents of passengers deliberately obstructing the doors on trains each year'. Since April there have been 80 incidents of trains being delayed by passengers holding the doors open, despite a potential fine of up to £1 000 and two prosecutions in the last 18 months.
'Incidents where people have been dragged after getting stuck in the doors of trains are very rare', said Sharon Kelly, Director of Operations & Customer Services at DB Regio Tyne & Wear. 'We have nearly 40 million passenger-journeys a year, and over the last two years there have been just five incidents of people getting trapped.
'However, the number of incidents where people obstruct the doors is quite high - and these incidents cause disruption, delays and cost us a lot of money each year in repairs', she added.
'We introduced platform announcements and put posters up on train doors to remind passengers that they shouldn't obstruct the doors, but it doesn't seem to have worked, because people are still doing it'.