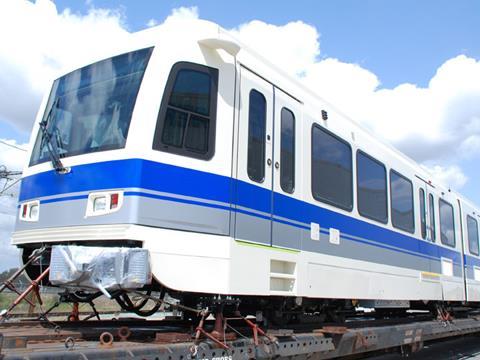 CANADA: Revenue services on the second light rail route in Edmonton began running on September 6, when the capital of Alberta inaugurated the Metro Line serving the north of the city.
Built at a cost of C$665m, around $90m below budget, the 10 km Metro Line diverges from the existing 21 Capital Line at Churchill and heads west in tunnel to MacEwan University before surfacing and turning north to serve the Royal Alexandra Hospital and Northern Alberta Institute of Technology. Construction was completed last year, but opening had been delayed by problems with the installation of new signalling.
As part of the North LRT project, the city is replacing the existing fixed-block signalling on the Capital Line with Thales SelTrac moving-block CBTC to permit 2½ min headways through the central area. However, this work is not complete, and since July, the city has been working with independent engineering consultant Hatch Mott MacDonald to develop an interim solution which would allow the line to open.
Metro Line LRVs are currently operating on line-of-sight north of MacEwan, at a maximum speed of 25 km/h. This has extended the journey time between Churchill and NAIT to 14 min rather than the 7 min originally envisaged.
Metro Line services share tracks with the existing route south of Churchill; most are currently continuing to the southern terminus at Century Park, although some turn back at Health Sciences station. With operator Edmonton Transit System limited to 5 min headways through the central area, every third train will run to NAIT with the other two serving the Capital Line to Clareview in the northeast. To compensate for the reduced frequency, Capital Line trains have been extended from four to five LRVs, while the Metro Line trains are running as three-car sets.
Once the new signalling is commissioned, Metro Line trains will turn back at Health Sciences and both routes will operate at a 5 min frequency to give a 2½ min headway between there and Churchill.
In the longer term, the city is hoping to extend the Metro Line north from NAIT to Castle Downs and then west to a park and ride interchange at the 153 Street Transit Centre near the boundary with the neighbouring city of St Albert.