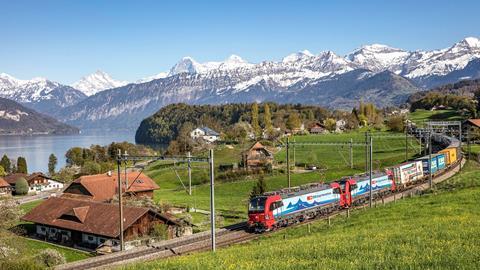 SWITZERLAND: Just over three years after selling a 35% stake in its freight business to logistics operator Swiss Combi, SBB has bought it back again for an undisclosed sum. SBB Cargo AG is now a 100% subsidiary of the national state-owned operator.
Swiss Combi will continue to work closely with SBB Cargo as a 'strategic partner'. The logistics operator is formed of four companies in the road transport and freight forwarding sector: Planzer Holding AG (40%), Camion Transport AG (40%), Galliker Holding (10%) and Bertschi AG (10%).
SBB will once again manage its freight business at the SBB Group level, simplifying the management structure. SBB also says that the move 'prepares for possible state subsidies for single wagonload traffic'.
SBB's wagonload services are responsible for 45% of net tonne-km but remain unable to cover their costs. The Federal Council is currently considering proposals for strengthening the business in the long term, and proposals are due to be debated by the cantons and other interested parties later this year.
In another change to the Swiss rail freight landscape, SBB has established SBB Intermodal AG as a subsidiary that will assume responsibility for expansion of freight terminals across Switzerland in line with the Suisse Cargo Logistics concept which envisages rail handling 60% more freight traffic by 2050.
The SCL concept includes the development of five high-performance terminals located at Genève, Lausanne, Gäu, Dietikon and Gossau. These will be complemented by five to eight freight hubs in strategic city locations.
Responsibility for all SBB's freight traffic will fall to Alexander Muhm with effect from June 26, who is moving from Head of Real Estate to succeed Désirée Baer as Director of the freight business. Muhm will also become Chief Executive Officer of SBB Cargo AG.