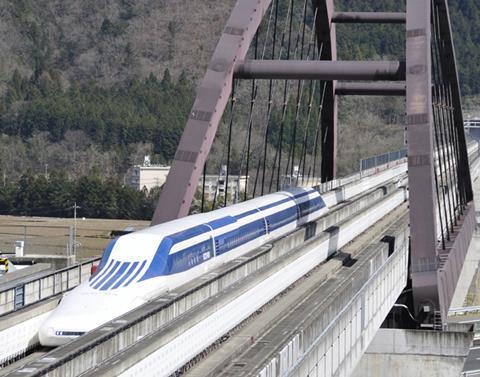 JAPAN: Central Japan Railway officially marked the start of work on the first phase of its Chuo Shinkansen superconducting maglev line between Tokyo, Nagoya and Osaka with ceremonies at the Shinagawa and Nagoya station sites on December 17.
According to JR Central, construction work on the 286 km between Tokyo and Nagoya will get underway in earnest in early 2015, and take about 10 years; around 85% of the line is expected to run in tunnel. Revenue operation is due to start 'by 2027'. The second phase from Nagoya to Osaka would not be completed until 2045.
The company submitted its plans for the first phase to the government in August, and received a formal go-ahead from the Ministry of Land, Infrastructure & Transport on October 17. It estimates that the cost of building this section will be around ¥5·4tr.
Speaking at the ceremony in Nagoya, JR Central President Koei Tsuge said 'I am sure there will be many difficulties during this major project, which will take more than a decade. We want to press ahead with construction safely, while giving proper consideration to the preservation of the environment and working closely with the regions the line will pass through.'
As well as the termini at Shinagawa and Nagoya which will be about 40 m underground, the alignment announced in September 2013 includes four intermediate stations. That at Sagamihara in Kanagawa prefecture would also be in tunnel, but the stations at Kofu in Yamanashi prefecture, Iida in Nagano prefecture and Nakatsugawa in Gifu prefecture would be above ground.
With the superconducting maglev vehicles operating at speeds up to 500 km/h, JR Central anticipates an end-to-end journey time of 40 min, compared with around 90 min for the fastest Nozomi trains using the 342 km Tokaido Shinkansen. One proposed operating pattern being considered to optimise capacity on the Chuo Shinkansen envisages that a non-stop maglev service would be followed by a series of stopping services at 6 min headways, each making one intermediate call in sequence along the route. This would avoid the need to build overtaking loops with cumbersome guideway turnouts.
JR Central is currently undertaking trials with its prototype Series L0 maglev fleet at the test track in Yamanashi prefecture, which has been lengthened to 42·8 km and will form part of the Chuo maglev route. After starting trials with an initial five-car set, the railway ordered extra vehicles to create two seven-car sets; these have 24 seats in each end car and 68 in the intermediate vehicles.
Read our article on the Chuo maglev project in the December 2013 issue of Railway Gazette International, available to subscribers in our digital archive.