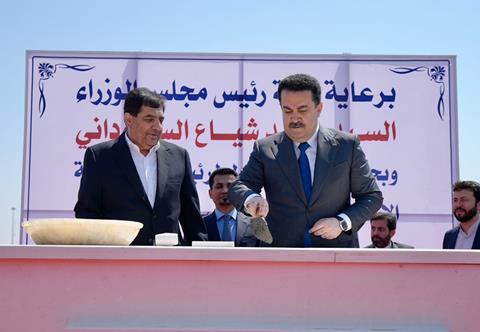 INTERNATIONAL: Construction of a cross-border rail link between Iraq and Iran was formally inaugurated on September 2 with a foundation stone laying ceremony at the Shalamcheh border crossing point near Basra, attended by Iraq's Prime Minister Mohammed Shia al-Sudani and Iran's Vice President Mohammad Mokhber.
Expected to take around two years to complete, the 32 km line will link the Iraqi network at Basra with RAI's branch from Khorramshah. A bilateral agreement to build the line was signed in 2021 following what al-Sudani described as 'years of deliberation and research spanning multiple administrations', leading to the award of 'a contract with a suitable company for its execution'. He expressed 'sincere gratitude to the Islamic Republic for their commitment to clear the mines from the designated area and constructing a bridge over the Shatt Al Arab waterway to facilitate the railway crossing'.
The Prime Minister emphasised the significance of the connection for transporting travellers and pilgrims to Islamic shrines from Iran and the Central Asian countries. He explained that 'the Arbaeen pilgrimage is here, with Iraq welcoming pilgrims from around the globe, arriving by land, air, and sea. Predominantly our guests hail from Iran, with over 3 million arrivals from various entry points, including 700 000 via the Shalamcheh port to date.
'In anticipation of increasing pilgrim numbers in the years ahead, we aim to develop infrastructure that streamlines entry, enhances accessibility and mitigates traffic congestion and incidents during these occasions.' He added that plans were being developed 'to extend these connections to the holy cities of Najaf and Karbala in the future'.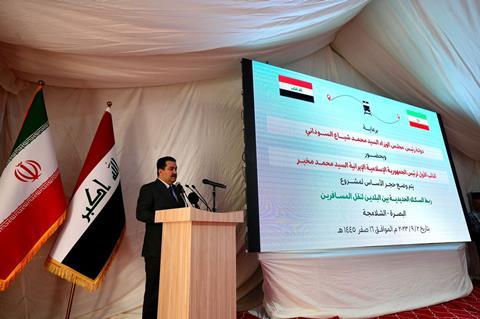 According to the government, the project 'serves as the first step in a series of strategic transport initiatives connecting Iraq with its neighbouring countries'. Earlier this year, Iraq unveiled a US$17bn road and railway project branded the 'Route of Development', which envisages a 1 200 km corridor linking the Gulf region around Basra with the Turkish border in the north.
Al-Sudani highlighted rail's potential for bolstering Iraq's economic development. 'Railways remain the most economically viable, cost-effective, and secure mode of transportation', he told the assembled guests. 'Railways are an indispensable component of any thriving economy, underpinning positive growth indicators worldwide.
'The railway connection via the Shalamcheh port is one of many connections in a network we aspire to extend, spanning across the entire region. The Route of Development, coupled with the completion of Grand Faw Port and its associated industrial city, will usher in significant opportunities for transformative development.'