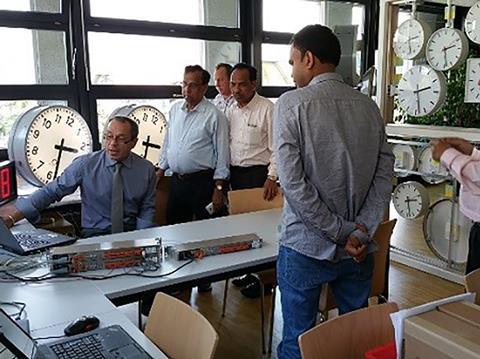 INDIA: Swiss company Mobatime has been awarded a contract to supply time signals and clocks for the Navi Mumbai Metro. The 11 km initial phase of Line 1 is under construction for opening in 2017, as the first stage of a planned six-line network totalling around 117 km.
Two control rooms will each be equipped with a Mobatime Masterclock DTS 4136.timeserver to generate time and date information, with Masterclock devices to provide 2·048 MHz signals for synchronisation.
The platforms and concourses at the 11 stations on the first phase of Line 1 will be equipped with 600 mm diameter LED illuminated double-sided Metroline clocks. The workshops and depots will have digital outdoor clocks with 180 mm characters, while digital indoor clocks with hour and minute displays will be installed at various locations.