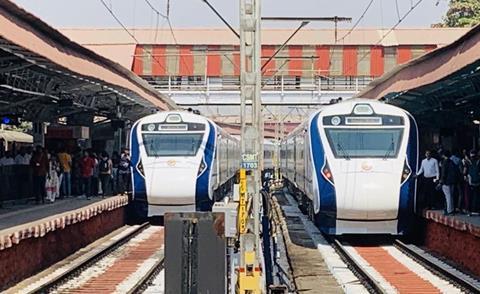 INDIA: Indian Railways has named Alstom as low-bidder for a contract to supply and maintain 100 aluminium bodied Vande Bharat 4.0 trainsets with sleeping car facilities for use on longer-distance routes.
Alstom's bid is valued at Rs1·51bn per 16-coach train, compared with Rs1·69bn from a consortium of Hyderabad-based Medha Servo Drives with Stadler Rail. Both firms had passed the technical bidding round in February, after which the financial bids were invited.
According to IR, the winner will receive Rs130bn upon delivery, with an additional Rs170bn to be paid for maintenance over a 35-year period.
Medha has been a technology partner for the Vande Bharat programme from the outset, supplying the propulsion system for the first Train 18 prototype completed at the Integral Coach Factory in 2018. Alstom has a significant footprint in India, working with IR to manufacture high powered electric locomotives at Madhepura in Bihar.
The Vande Bharat concept has been evolving steadily since the appearance of the first prototypes. In March 2022 IR awarded contracts to supply equipment for 58 second-generation trainsets at a total cost of Rs18·5 bn, with the units to be assembled at IR's existing carriage works.
The Ministry of Railways then invited tenders for the manufacture and maintenance of 200 third-generation rakes which would include sleeper class accommodation, along with the related enhancement of designated manufacturing units and depots. These Vande Bharat 3.0 sets are to be supplied by a consortium of Transmashholding and Rail Vikas Nigam Ltd, with Bharat Heavy Electricals and Titagarh Wagons taking a share of the Rs580bn package. These trains are expected to run up to 180 or 200 km/h and have a design life of 35 years.
The aluminium-bodied fourth generation trains will have a maximum speed of more than 200 km/h and improved passenger amenities.
The fixed-formation trainsets are now envisaged as the backbone of IR's short-distance regional and inter-city services. MoR is reportedly planning to procure up to 1 000 eight-car regional trainsets at an estimated cost of Rs81·25m per vehicle, as well as 300 'Vande Metro' sets of 12 cars, at an estimated cost of Rs120m per car.
Fencing imperative
Following a number of incidents in which the streamlined Vande Bharat trainsets have hit cattle or people wandering on railway tracks, IR has been instructed to accelerate the fencing of its main lines. The Commission of Railway Safety has stipulated that tracks should be fenced or walled before 160 km/h operation can be introduced.
Although the Vande Bharat trains are certified for 160 km/h, most do not exceed 130 km/h for any sustained distance, and the 'semi-high speed' services offer an end-to-end average speed of barely 80 km/h.
Railways Minister Ashwini Vaishnaw said in November 2022 that several routes would be fenced over the next five to six months, starting with the Mumbai – Gandhinagar – Ahmedabad route, where eight contracts have since been awarded at a cost of Rs2·45bn. These will use stainless-steel 'W-beam' fences based on the crash barriers used by National Highways Authority of India.
Northern Railway General Manager Shobhan Chaudhuri confirmed in May that three sections of the NR network have been identified for upgrading for 160 km/h by March 2024: Delhi – Palwal (60 km), Delhi – Ghaziabad (15 km), and Kanpur – Lucknow (72 km).