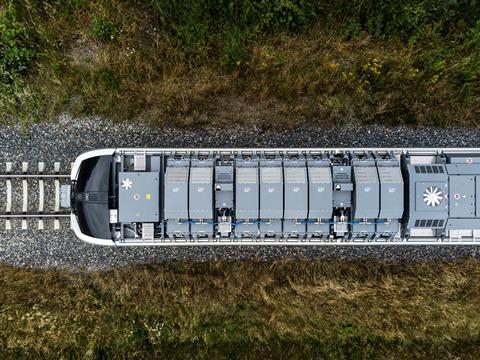 GERMANY: Alstom has unveiled the first of 11 Coradia Continental battery-electric multiple-units ordered by Mittelsachsen transport authority VMS for use on Chemnitz – Leipzig services.
VMS Managing Director Mathias Korda said the BEMUs would enable electric operation on one of the most important routes in the region without needing overhead equipment to be installed.
Entry into service is planned from 2024, with Transdev Regio Ost operating the sets in pairs on the 80 km route where they will replace diesel loco-hauled trains.
Electrification of the route is envisaged in the longer term, at which point the BEMUs could be converted to conventional electric operation.
Coradia Continental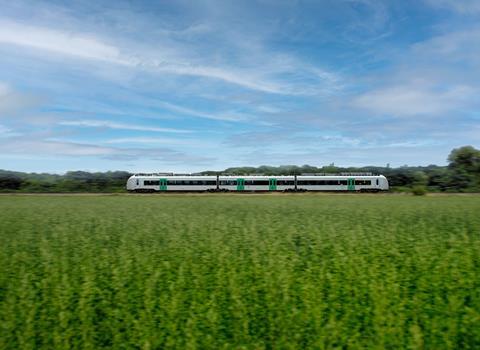 The €100m order for the supply and maintenance of the 11 BEMUs was placed in February 2020, supported by a €49m 22-year financing package from KfW IPEX-Bank, Nord/LB and Deutsche Kreditbank.
The order was a follow-on from 29 Coradia Continental EMUs ordered by the authority in 2014 for use on services to Dresden, Riesa and Zwickau.
The BEMU and EMU fleets will be similar, with the 56 m long three-car BEMUs having 150 seats with tables and power sockets.
They will have a maximum speed of 160 km/h and range of up to 120 km when using battery power. They will also be able to use 15 kV 16·7 Hz overhead where available.
Important step for Alstom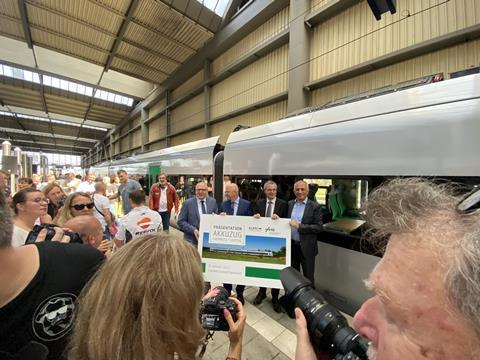 Alstom's Salzgitter and Mannheim sites are involved in production, with the roof-mounted lithium-ion battery subsystem being designed and supplied by its Tarbes site in France.
Müslüm Yakisan, President of Alstom's DACH region, said the unveiling in Chemnitz on August 21 of the battery trainset was an important step in the company's ambition 'to be the global leader in sustainable mobility, reducing emissions and pollution in catenary-free operation'.
He said along with the iLint hydrogen train, Alstom can now offer 'two environmentally friendly alternative drive solutions for rail'.